Nidya Preza
Hang on for a minute...we're trying to find some more stories you might like.
Throughout my life, I was always a very shy person who did not like to put herself out there. I was always the timid student who never liked to participate in anything due to the fact that I was always so afraid of being judged. However, as I went into high school I was forced to get out of my comfort zone by my theater teacher, Mr. Heu. It was a terrifying thing for me because I never enjoyed being the center of attention let alone perform for an audience. I tried getting out of the theater class but my counselor just wouldn't allow it. I had no choice but to stay and slowly build my confidence and find myself. As of today, I have participated in the Winter Play my sophomore year, given dozens of speeches in front of audiences, and currently working on presenting a monologue in front of an audience for my theater class.
I am involved in Hoover through many different clubs and organizations. I am currently the Secretary of the Class of 2018 and the Vice President of Cardinals Interact. I am also involved in the Cesar Chavez Club, Drama Department, and FACES.
A person I have always looked up to was my Cardinals Interact director, Beatriz Valencia. We both came from similar backgrounds and share similar struggles growing up in the United States. She is one of the strongest people I know and I aspire to be just like her. She has helped me tremendously through my high school career and has been one of the biggest influences in my life. She has shown me that despite the obstacles you may face, you will only grow and come back stronger by not letting it bring you down.

About the Writer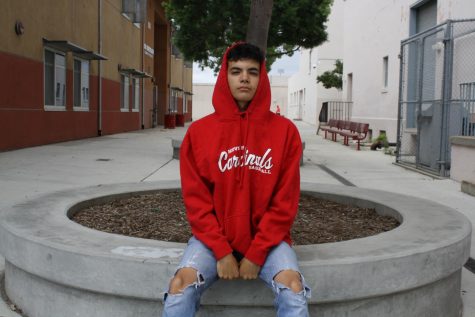 Joaquin Negrete, Staff Writer
Joaquin Negrete enjoys spending his free time reading science fiction books and frying his brain on video games for hours.  He plays sports like soccer,...