Another Day Another Tragedy
Hang on for a minute...we're trying to find some more stories you might like.
Unfortunately, yet another school shooting has taken place in America in Santa Fe, Texas. The shooter was identified as 17 year old student, Dimitrios Pagourtiz Jr. Pagourtiz went to the school, and his motive for shooting the school is still unknown, but there was evidence authorities found at Pagourtiz's house. They found a journal where Pagourtiz wrote down how he wanted to shoot the school, and he was planning on committing suicide afterwards. More incriminating evidence was found on Pagourtiz's social media. He posted a photo of a black trench coat with buttons on them. The buttons all related to Nazis, Kamizake tactics, and Rebellion. For those who don't know, Kamikaze is a Japanese airplane loaded with explosives, with the sole purpose of being a suicide bomber. Prior to the shooting, he also made his own shirt that read in all caps across the chest,  "BORN TO KILL."
Lots of the students at the high school had reported that no one had suspected him to commit such an action. People had spoke to him here and there, and most of them had said that he was a very quiet student. One student said that he always wore a trench coat, which by then would've raised plenty of worry and suspicion for me.  Another thing students and teachers alike said that Pagourtiz was a good student, just very quiet and kept to himself. That seems to be the description of most school shooters, a trend even. Almost every school shooting suspect was described using words like that or similar to that. It's beginning to make people more suspicious of students that are quiet and shy. Most school shooters also acquire the weapons from someone in their family that owns the firearm, usually a male figure like a father or uncle.
The shooting started during first period at Santa Fe High School at 7:40 AM, when Pagourtiz came into an art class and started firing. The details of the shooting seem like what would come out of a movie. It's almost unthinkable to know that this played out.
This is the 22nd shooting to have happened in the US, and it will continue to happen unless gun control becomes more strict. It's far easier to buy a gun than it is to even get a car in America. How many more school shootings will have to happen in order for the government to change gun laws?

About the Writer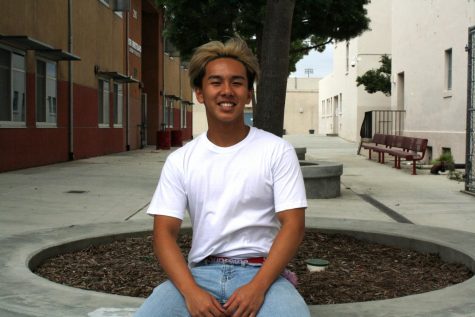 Trung To, Copy Editor
Trung To is a very interesting individual. He's a senior at Hoover High, and he's been at Hoover for all four years. Trung's a pretty good student,...