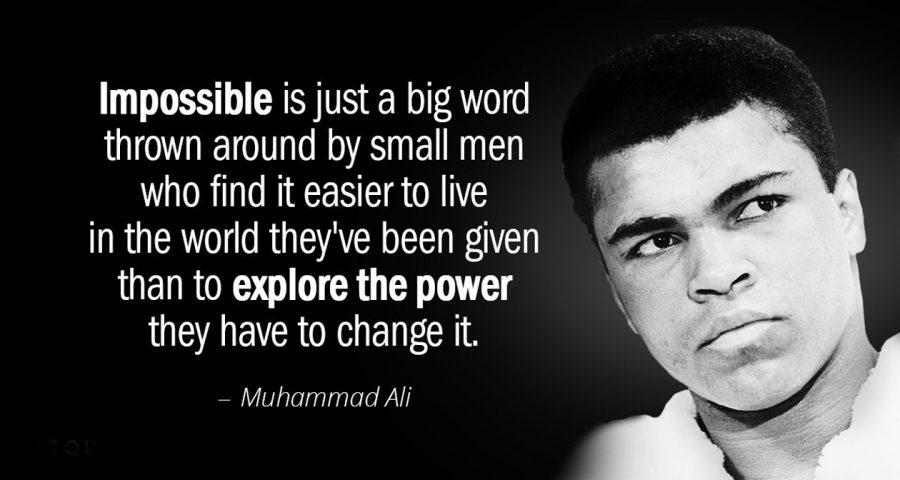 Cassius Clay was an American professional boxer, activist and philanthropist and was born on January 17, 1942 in Louisville, Kentucky. He then later changed his name to Muhammad Ali. At the age of twelve, he began training as an amateur boxer. His hard work paid him off with a gold medal in the lightweight category, and at age of 22, he won the world heavyweight championship. In his boxing career, he was in 61 boxing matches, won 56, KO 37 and lost only five fights his whole career.
He was one of the greatest boxers of all time which hints to his nickname "The Greatest". Ali changed his name from Cassius Clay (which he referred to as "slave name") to Muhammad Ali. He set an example of resistance to white domination during the Civil Rights Movement. Ali then refuse to be drafted into the US military. He took this situation to the Supreme Court where he then explained that he's not trying to dodge the draft but it's against his religion to fight in a war that's not declared by The Messenger or Allah. At this point Muhammad Ali had not fought for nearly four years which brought his fame as an athlete down.
On October 30, 1974—a bout nicknamed The Rumble in the Jungle, George Foreman was considered one of the hardest punchers in heavyweight history. In assessing the fight, analysts pointed out that Joe Frazier and Ken Norton, who had given Ali four tough battles and won two of them, had both been devastated by Foreman in second-round knockouts. Ali was 32 years old, and had clearly lost speed and reflexes since his twenties. Contrary to his later persona, Foreman was at the time a brooding and intimidating presence. Almost no-one associated with the sport, not even Ali's long-time supporter Howard Cosell, gave the former champion a chance of winning.  Ali won by knockout, putting Foreman down just before the end of the eighth round. It has been called "arguably the greatest sporting event of the 20th century". It was a major upset victory, with Ali coming in as a 4–1 underdog against the unbeaten, heavy-hitting Foreman.
In 1998, Ali began working with actor Michael J Fox, who has Parkinson's disease, to raise awareness and fund research for a cure. They made a joint appearance before Congress to push the case in 2002. In 2000, Ali worked with the Michael J Fox Foundation for Parkinson's Disease to raise awareness and encourage donations for research.  Ali was diagnosed with Parkinson's in 1984.
On July 27, 2012, Ali was a titular bearer of the Olympic flag during the opening ceremonies of the 2012 Summer Olympics in London. He was helped to his feet by his wife Lonnie to stand before the flag due to his Parkinson's rendering him unable to carry it into the stadium. The same year, he was awarded the Philadelphia Liberty Medal in recognition of his lifelong efforts in activism, philanthropy and humanitarianism.  Ali passed away on June June 3, 2016.