New Uniform Policy on April 1
Hang on for a minute...we're trying to find some more stories you might like.
April Fool's Story #3
Thank you for allowing The Cardinal staff to carry on this annual tradition!
Hoover High School administration and academy directors have made the decision to enforce a new school uniform policy for the upcoming 2019-2020 school year.
During spring break, the administration held an all day meeting concerning issues that have been affecting the school's educational environment. They  have decided to enforce this policy as there have been many complaints of students not following the school's current dress code and either getting sent home or having to wear loaners.  This has begun to affect the student's education.
Every year the students are reminded of the dress code when reviewing the Hoover student handbook, but many appear to think that the dress code does not apply to them.  According to the current dress code students are expected to use common sense and wear clothing suitable to the learning atmosphere. Also, there are no hats or any type of headwear worn during a class session unless for religious purposes. Tops must have a minimum of 2 inches wide straps and must not show any cleavage or midriffs. Shorts and skirts must be longer than the students fingertips with arms straight at the side. Pants must not sag and must be worn at the waist. Sleepwear, pajamas, and blankets are prohibited, with the exception of it being part of spirit week. Any undergarments should not be visible. Slippers are prohibited. Lastly clothing must not have the following references: alcohol, drugs, sex, or gang affiliation. These are some very simple rules that any student at any school should follow but a number of students at Hoover High do not.
So the administration and academy directors at Hoover have decided to change the dress code policy and enforce a new uniform policy.
Students will wear uniforms everyday with the exception of Wednesday. Students who do not follow the new uniform policy on days expected will have their parents called to come pick them up.  They will also be placed on the LOP list, and can only be cleared by wearing the uniform on Wednesday and/or to Saturday school. The uniform will consist of khaki pants, a long or short sleeve shirt or polo of the color associated with your grade level:  9th-orange; 10th-green; 11th-yellow; 12th-red. They will also be required to wear the new blue vest (please see article concerning sponsorship).
"I hate it!" said junior Chanmonita Loek.  "They can't make us wear uniforms because it's not in the constitution. Plus I look terrible in yellow!"
The polo shirts will be available for purchase at the student store at the end of the school year.  They will also have the academy logos so students will be able to identify which academy they belong to for the upcoming year.
"I'm a 50/50," said junior Zaira Linares. "But I know many students who will dislike the idea and will not wear the uniform."
About the Writer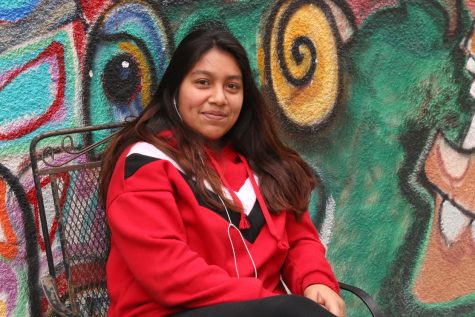 Angela Galan, Staff Writer
Angela Galan Martinez is a junior and part of the ALMA academy. She's currently living with her mother, grandparents, and two twin brothers. She's...