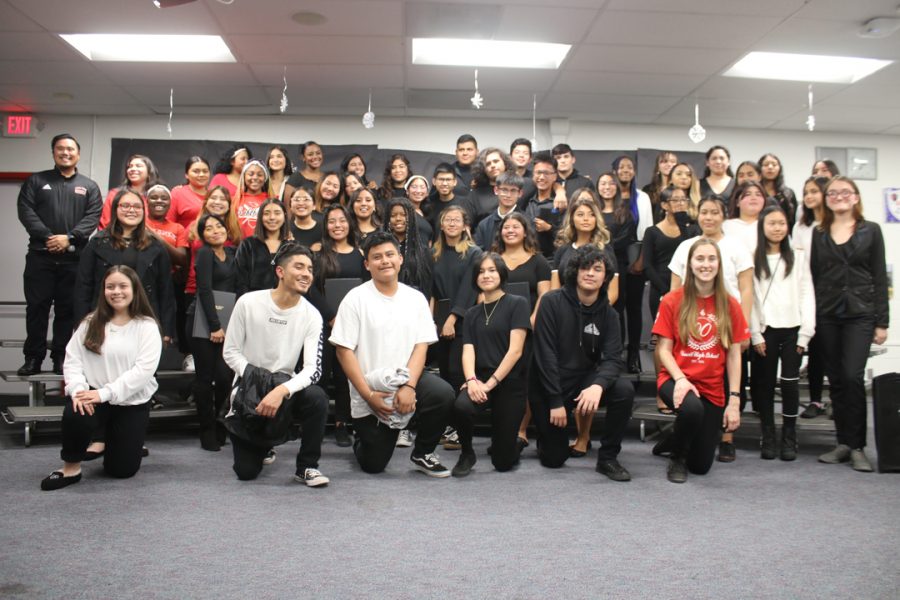 Angie Galan
The Hoover Choir cluster performed at their second production of the school year last Wednesday the 11th. Guests arrived in droves for the young singers. Those who came early in the front rows were amused by sneak peeks of the songs, dancing included. Choir Director, Mr. Mark Gonzales, opened the night with a few words inspiring holiday cheer and goodwill. The Hollywood Winter was one of the many more fundraiser concerts to come for the program, ultimately leading up to their annual competition in Buena Park. Admission was free but donations were recommended. In this season of giving, all gave generously to help the choir fulfill their goal of meeting the travel costs to Buena Park and future costs.
Three choir groups were present and each set impressed viewers with its appreciable display of vocal richness and visual glamour. Women's Choir performed a cappella songs from Pitch Perfect paired with fine-tuned choreography that they rehearsed day in and day out for. Although they set the bar high, Advanced Choir rose to meet it with their confident rendition of songs from The Greatest Showman. The girls kneeled down in protest that "towers of gold are still too little" and the boys assured with finesse that "these hands could hold the world." Despite these affirmations, they both agree that "it'll never be enough."
In between these performances, some choir members took advantage of the intermissions and joined forces in expressing themselves through Christmas carols and pop songs in duets and trios. Some chose to go at it solo. In both cases, they left a lasting influence in the hearts and minds of those who came to enjoy the music. The Hoover Choir put their best foot forward at the Hollywood Winter and since then, have been recognized school-wide as a group that can sing, dance, and win competitions to bring credit to Hoover High School.