Why is this my favorite food? Well, not my favorite but it's in my top 10 favorite foods.
Though a lot of San diego people love In n Out, it is one of many peoples favorites where you could get it is really almost anywhere and they have tons of locations. I like going to the one in Mission Valley. Their burgers and fries are so good and people also enjoy their shakes.
I really enjoy their nice crispy well salted french fries. I like how they make mine steaming hot but just crunchy enough to get that crisp texture. Last time I went, I got a Number One with a Dr. Pepper. It was so good and they made it hot and ready quickly and tasty. The cheese was just melty enough and hot enough to make it drip. My french fries were perfectly shaped and perfectly cooked, just crunchy and well salted. My go to is a Number One with spread on the side, animal fries, regular french fries and chiles. For my drink I get a pink lemonade or strawberry shake.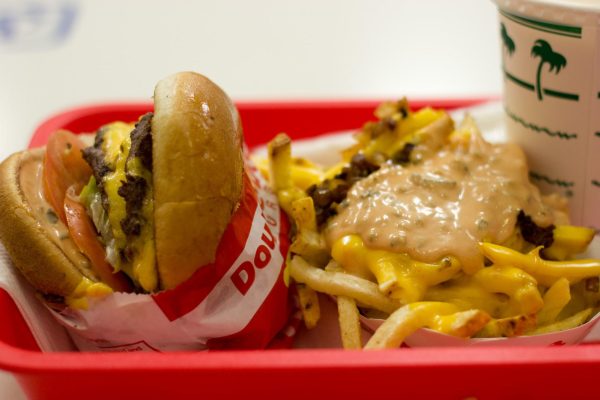 Why I think it's one of my top 10 is mainly because they are on time with the food unless it's really packed and because it's one of the best burger spots in general, in all of California. Established in Baldwin park, California, in 1948, by Esther and Harry Snyder, the restaurant was the first drive-thru hamburger stand in California, allowing drivers to place orders via a two-way speaker system. The chain is currently headquartered in Irvine, California and has expanded outside Southern California into the rest of California, as well as into Arizona, Nevada, Utah, Texas, Oregon, and Colorado, and is planning expansions into Idaho and Tennessee.
The current owner is Lynsi Snyder, the Snyders' only grandchild. In n Out burger has chosen not to franchise its operations or go public. One reason is the prospect of food quality or customer consistency being compromised by excessively rapid business growth. The In n Out restaurant chain has developed a high customer base and has been rated as one of the top fast food chains/ restaurants in several customer satisfaction surveys.