What's St. Patrick's Day?
Hang on for a minute...we're trying to find some more stories you might like.
St. Patrick's Day is worldwide celebration of Irish culture, usually on March 17th. St. Patrick's day has many symbols to represent the holiday. For example, there is the shamrock, a snake or serpent, and a leprechaun. The Leprechaun with the pot of gold is widely known and the Celtic cross is also a powerful symbol of this holiday. The holiday is celebrated on the day the greatest benefactor of Ireland, Saint Patrick, passed away. Around the 17th century, St. Patrick's Day was known as a Christian Feast Day and there are many ways to celebrate this holiday
Saint Patrick was born in Great Britain around the fifth century. When he was 16, he was kidnapped and brought to Ireland as a slave. Six years later, he escaped on a getaway ship. After twelve years, he returned to Ireland and it is said that he brought Christianity to the people by telling them about God. After he died, he became more of a legend in Irish culture.
We all know the infamous saying, "Wear green or get pinched," and it is customary to wear shamrocks/green clothing on this holiday because it is believed that Saint Patrick used a shamrock to explain the holy trinity to the Pagan Irish.
More than 10 countries celebrate St. Patrick's day and there are a number of ways to celebrate and embrace the Irish culture. There are parades all over the world for the Irish holiday. For example, Toronto throws a St. Patrick's Day Parade every year since 1863. In Manchester, Great Britain, they have a two-week Irish festival prior to St. Patrick's Day. St. Patrick's Day is also seen as a religious holiday to many Christians and Catholics and has become a holy day of obligation for Roman Catholics in Ireland. In America, we have many street parades in places like Chicago, New York, and Seattle. Some public places even dye the water green!
This holiday is celebrated in many different ways, mainly with a feast of many different Irish platters. The most popular dishes served on St. Patrick's Day is corned beef and cabbage, shepherd's pie, and Irish soda bread. Traditional dishes would include Irish stew, colcannon, and coddle. Some people also love to make green foods to celebrate the holiday.
Other than wearing green, there are many different ways to celebrate this holiday. In San Diego, there's an annual St. Patrick's Day parade and festival in Balboa Park. There is also a 5k from those who love to run and exercise. With parades all around, there's lots of fun to encounter in this month.

About the Writer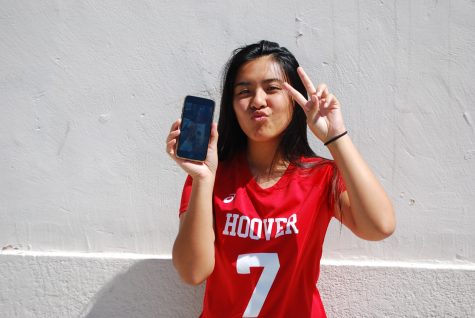 Amie Muller, Staff Writer
Amie, a junior at Hoover High, is Vietnamese and Chinese, but born and raised in San Diego. She has a half brother and twin sisters, but she live with...