Rap Kicked Out of the Grammy's
Hang on for a minute...we're trying to find some more stories you might like.
Music has existed since the beginning of time, for the hard times and the good times. In every category of music, there are performers that dominate each scene. That's no different with rap, if you know a little about rap, you know about Kendrick Lamar. A native of Compton, California; when he released Section 8.0 and good kid m.A.A.d city the rap world was set ablaze. These albums mainly consisted of heavy rhythmic lyrics and beats you can rock your head to. He described a hard life of a good kid surrounded by drugs, guns, death, and hopelessness. When Westcoast Rapper released To Pimp a Butterfly, it was a revelation for listeners to find that it was not only hopeful, but also had a R&B and funk vibe that was easy to dance to.
When To Pimp a Butterfly was nominated for this year's Album of the Year at the Grammy Awards, it was huge for the whole rap world. Along with it, Beauty Behind the Madness by The Weekend, Traveller by Chris Stapleton, 1989 by Taylor Swift, and Sound & Color by the Alabama Snakes were also nominated. I have only listened to Behind the Madness and To Pimp a Butterfly, but I was sure that Kendrick was a definite shoo-in for this award. To my surprise, Taylor Swift won Album of the Year. Kendrick was nominated with 11 total nods more than any other artists except Michael Jackson with 12. If he had won, he would've been the third rap artist to ever receive Album of the Year. When they introduced a rap category in 1989, people didn't expect that the Grammys were looking to isolate rap. They may win Best Rap Album and other rap related awards, but that's about it. To Pimp a Butterfly was a haunting description of what it is like to be black in a white man's world. He used funk, jazz, and a dash of blues to convey this view. Taylor Swift's 1989 was a happy album with regular pop beats and a catchy verse. There's nothing wrong with her album, but up against an album with substance, Kendrick Lamar's album should have ran away with the third Album of the Year award for rap. However, if the committee was deciding on the winner based off of record sales, Swift wins with a whopping 5,750,000 copies in the U.S. whereas Lamar has sold a respectable 788,000.
The Grammy lost a great opportunity to give a very deserving and popular genre one of the biggest awards of the night. Instead rap is forced to stand outside looking in. At the end of the day, what matters more is how impactful the music is, while Taylor Swift's album fades slowly, Kendrick Lamar's To Pimp a Butterfly is going up as one of the most impactful albums of the decade.

About the Writer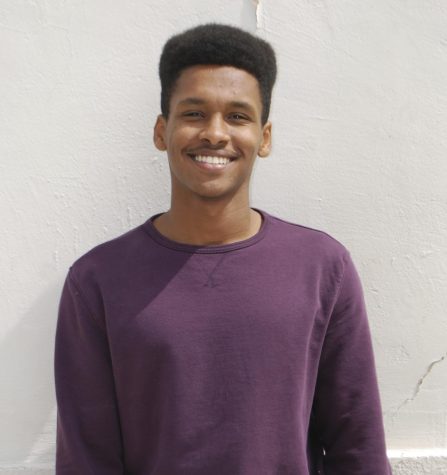 Sofonyas Shibre, Former Editor in Chief 2017-2018
When I'm not publishing articles, I'm playing soccer and volleyball for my school. I love my sports in general, from basketball to just going to the gym,...