Movie Review: The Jungle Book
Hang on for a minute...we're trying to find some more stories you might like.
Spoiler Alert
The Disney classic animated films are the best! The Jungle Book, directed by Jon Favreau, is based on Rudyard Kipling's book and inspired by Disney's 1967 animated film. The movie was released on April 15, 2016 has been breaking the box office records. If you don't already know, The Jungle Book is about a man-cub, Mowgli, who flees the jungle after being threatened by a tiger, Shere Khan. Mowgli goes on a self-discovery journey guided by Bagheera, the panther who raised him, and Baloo, a bear he met on his journey.
The Jungle Book is an adventurous family movie with a little bit of drama. The movie is great to watch with your younger siblings or childish friends. Throughout the whole movie, Shere Khan, the tiger, tries to get revenge on Mowgli by attempting to kill him because his biological human father had burned part of his face while trying to protect Mowgli. By the end of the movie, Shere Khan doesn't get his revenge, but instead gets what he deserves.
My favorite scene was when Mowgli and Baloo were in the river singing, "The Bare Necessities." This is my favorite song from the movie and during the scene while they were singing this, they were so happy. Another reason why this is my favorite scene is because while they're singing the song, Bagheera finally finds Mowgli after having to separate to get away from Shere Khan. After Bagheera finds his way back to Mowgli, he finally realizes that the way he thinks can actually help him survive in the jungle. Once he realizes that, he doesn't try to change Mowgli anymore, but instead he tells him to embrace it and use it to save the other animals and get rid of Shere Khan.
My favorite character is Baloo. Although Baloo was just using Mowgli to get honey for him at first, he comes to realize that he's different from the other men. Baloo keeps him around and protects him. They work together to get honey from the bees and store it in Baloo's cave. Baloo is my an amazing character because he's witty and cares about Mowgli. Baloo is also the one who opened Bagheera's mind about Mowgli. He made him realize that the way Mowgli thinks is actually a good thing, rather than having to make him act like the wolves he was raised with.
Overall, I would highly suggest this movie. Considering most of us probably watched the 1967 animated film, the remake of it is just as amazing. I loved every minute of the movie. The Jungle Book is very heartwarming and filled with lots of adventure. I would definitely go to see this movie again.

About the Writer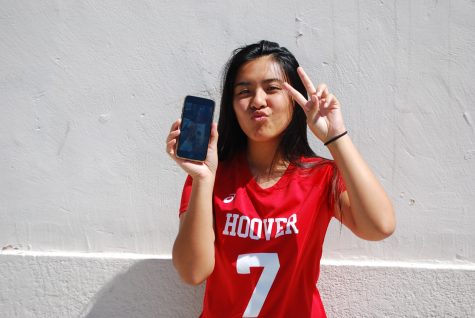 Amie Muller, Staff Writer
Amie, a junior at Hoover High, is Vietnamese and Chinese, but born and raised in San Diego. She has a half brother and twin sisters, but she live with...