Boys Volleyball: CIF Champs
Hang on for a minute...we're trying to find some more stories you might like.
Nationally Ranked #248, State Ranked #122, the 2017 Division III Hoover Boys Volleyball team worked their hearts out to play the sport they were passionate for. With their amazing coaches, Thomas Tom and David Chau, the team finished their season with a league score of 10-4. Along with their tournament success, the boy's overall record was 24-8 qualifying them to make it to CIF; then defeating their opponent making it to state regionals', the first ever appearance in a long while.
"I have learned that volleyball is an amazing sport that constructs a brotherhood among the team." stated senior Michael Cozy.  "Volleyball means the world to me and I dedicate all my time to making myself and my brothers better players and people. #OHANA"
As number one seed, Hoover automatically advanced to the quarterfinals against Lincoln High School, May 21th, winning 3-0. Moving forward, semifinals against Serra High School May 16th,  Hoover won 3-0 once again with set one: 25-21; set two 25-19; set three 25-21. So finally, finals widdles down to the two best schools standing, Hoover vs Coronado on May 19th, Hoover won again 3-0. Set one: 25-20; set two 25-15; set three 25-13. Making the Hoover Boys Volleyball team Division III CIF Champs.
"I think the season went really well. After our first scrimmage against Coronado I was uneasy on how our team would do because of lack of bonding and communication with each other but as we continued our season I had more confidence in our team," expressed junior Kenith Lim.  "I was more than happy to have played with this team. Now that season is ending, I am happy because I believe we will take CIF and get Hoover it's first CIF win for volleyball, but I am also sad because I have grown rather close to our seniors. They are like brothers to me. Next year I am longing to play with the upcoming juniors. With strong communication and bond with each other I think we can place high up on the charts, OHANA."

About the Writer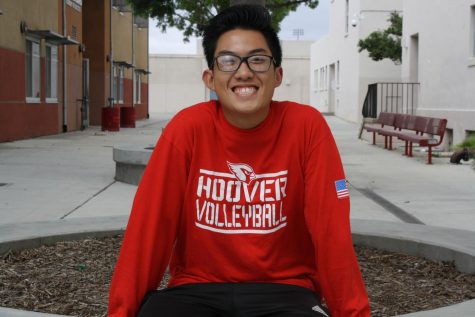 Andy Ngoly, Staff Writer
Andy Ngoly comes from a Vietnamese background, but was born and raised in San Diego. He is a student at Hoover High School in the Academy of Literature, Media and Arts. He is entering his senior year and has been doing yearbook for two years. Yearbook and Publications helps him with his photography skills and...