Seniors, TAKE ACTION NOW!
Hang on for a minute...we're trying to find some more stories you might like.
As tradition, every senior class in high school receives the privilege to go to an amusement park for their last and final year of their high school. Last year, the Class of 2017 had the opportunity to go to Disneyland. This year, the class of 2018 will be attending Universal Studios in a few months prior to the ending of their senior year. Unfortunately, seniors need your help getting there. Without a PTSA (Parent Teacher Student Association), grad night will not be possible.
This will affect not only 2018 but the underclassmen as well, especially class of 2019. if 2018 does not get a grad night, 2019 may not either. The reservations for Universal Studios have been made, but tickets cannot be sold, or buses reserved unless Hoover has a PTSA to take charge of this event. It is state law that every school who has a grad night, needs some sort of parent association prior to the event. The PTSA needs you and your parent/ guardian to establish a functional PTSA at Hoover High School. Join us on Monday, October 30th at 6:00 p.m. in the Hoover Library to get more information and to elect the positions of President, Vice President, and Treasurer and become members of this vital organization (possible to have a basic membership). Parents and students may also run for cabinet which always looks for college applications.
Cortney House, 2018 Senior Class President stated, "My cabinet and I will be at the meeting Monday night to ensure Hoover's traditional grad night, and campus wide, we should have students with their families come and be part in a basic membership towards this organization."
"I feel like it would be really bad if the Class of 2018 does not have a grad night," said senior Klo Doh Say. "We have worked so hard to book this event and we want to ensure seniors have an amazing night as an ending to their high school career, as part of the class cabinet, along with my president we will be at the meeting Monday night to ensure this process to happen."
2018 GRAD NIGHT WILL NOT HAPPEN UNLESS SENIORS TAKE ACTION!
For more information please have your parent contact our principal, Mr. Jason Babineau at (619) 344-4500 extension: 3020; or email jbabineau@sandi.net. Let's make this happen for 2018-19 and future classes at Hoover!

About the Writer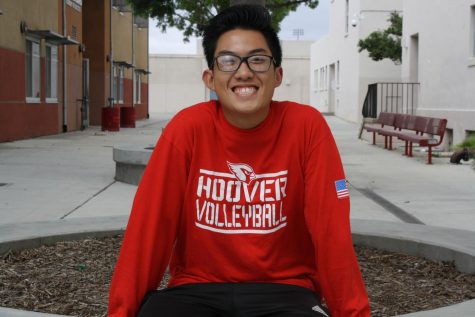 Andy Ngoly, Staff Writer
Andy Ngoly comes from a Vietnamese background, but was born and raised in San Diego. He is a student at Hoover High School in the Academy of Literature,...