Sports Update 1/22-1/26
Hang on for a minute...we're trying to find some more stories you might like.
Last week the boys varsity basketball team played against Crawford High on Tuesday, January 23rd. With a close score of 42-41 the Cardinals did everything they could to make sure Crawford wouldn't catch up and win. This week, varsity has two away games. One on January 30th against Clairemont and one on February 2nd against University City. So far, varsity has an overall record of 12-9 and league record of 4-1. Varsity is now 2nd place in League and 4th place in Division.
The boys varsity soccer team were kept busy with two games. On Monday January 22nd, Hoover beat San Diego 3-1 and went on to emerge victorious against La Jolla with a score of 2-1. Both these games had energy and excitement the full eighty minutes. This week the boys will look to improve to 5-1 and 12-6 overall as they go against Crawford on the 31st at home and away against Lincoln on February 2nd. They are currently first in league and fourth in  their division.
 Last week the Hoover Lady Cardinals defeated Crawford, 46-41 in their only matchup. They worked as a team, played great defense, and played at their pace. This week they look to ball out three games in one week. They look to defeat High Tech and Mission Bay at home, the 29th and the 30th respectively. They'll finish the week away at La Jolla February 2nd. They're currently third in their league with a record of 2-3 and third in their division with and overall record of 8-5.
On the field, the Lady Cards bounced back from a 2-1 loss against Madison on January 25th against Madison with a score of 7-1. They're currently second in their league (3-1) and division (7-5).  The girls soccer program looks reinvigorated and ready to compete at home against Crawford on the 30th and away the 1st and 2nd against Kearny High and Mater Dei Catholic High.

About the Writer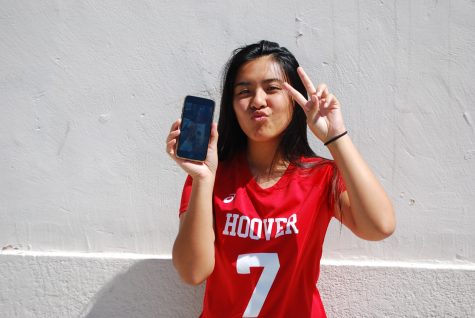 Amie Muller, Staff Writer
Amie, a junior at Hoover High, is Vietnamese and Chinese, but born and raised in San Diego. She has a half brother and twin sisters, but she live with...