Maze Runner Finale: SPOILER ALERT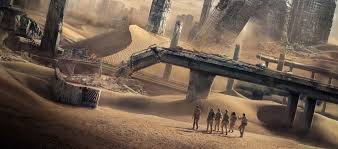 Hang on for a minute...we're trying to find some more stories you might like.
    Maze Runner: The Death Cure is the third and final installment of the Maze Runner films and based on the dystopian novel series by James Dashner. The plot follows a group of youth working to defeat a corporation known as the WKCD/WICKED (World in Catastrophe: Killzone experiment Department) in a post-apocalyptic world ravaged by the Cranks; people turned into zombie-like creatures due to a virus called the Flare. For the past few years, young-adult dystopian films have been popular so what does The Death Cure bring to the table? Its visuals and actions are done well and really grounds the conflict and setting of the narrative.
    From the start, the audience knows that stakes are high and the characters are struggling. In addition to its grandiose action, the question of ethics and morally-grey choices is another source of appeal for the film, giving it depth. While the main character stays mostly one-dimensional throughout the movie as the general hero figure, the supporting cast provides a variety of colorful personalities and characters. While providing a good amount of entertainment, the film is generally overstuffed as it concludes the series while also trying to fit everything it needs to to come to a satisfying ending.
    Compared to the novel, there are several characters and plot lines missing as well as general changes to events. Overall, Maze Runner: The Death Cure is comparable to numerous other over-the-top action films including romantic subplot, mindless but fun action, and a generally modular protagonist. The action would probably be the highlight of the entire film. It does okay compared to the other films of the franchise: The Maze Runner and The Scorch Trials. The same can be said for its comparison to other dystopian franchises. While not as memorable as The Hunger Games franchise, it does succeed in being an entertaining action film.