Chloe Kim
The Cardinal celebrates Asian Pacific American Heritage Month. Original date of publication, May 7, 2018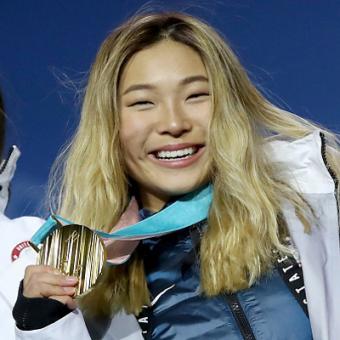 Chloe Kim is an American snowboarder who is also known as the youngest woman to win an Olympic snowboarding medal in 2018. She was born on April 23, 2000 meaning that she was 17 when she won her gold medals in snowboarding at the Winter Youth Olympic Games.
Chloe was born in Long Beach, California and raised in Torrance. She started snowboarding at four years old at the southern California resort of Mountain High and started competing when she was six as a member of Mountain High. At the age of eight, she started to train In Valais, Switzerland. She then returned to California to train at Mammoth Mountain at the age of ten, then joined up with U.S. snowboarding at thirteen. In addition, her father also quit his job to drive her to the mountains to train and so he can travel with her when she competes. In 2014, she was too young to compete in the Winter Olympics, so instead she competed in the Winter X Games earning a silver medal. In 2015, she won a gold medal in the superpipe event becoming the youngest gold medalist, until she lost this record to Kelly Sildaru in 2016. However in the 2016 X Games, she became the first person under the age of 16 to win two gold medals.
Now in 2018, it was her first time performing in the Winter Olympics in Pyeongchang, and became the youngest to win a gold medal. In my perspective, she created a story and a impact for young girls all over the world, her story got out and she ended up inspiring many.