Jeremy Pushes the Envelope Once Again
Hang on for a minute...we're trying to find some more stories you might like.
Once again, our senior Jeremy Ramirez took a step closer to his dreams. Earlier this year he published his entrepreneurship book and now he has been working hard on various entrepreneur competitions representing the Hoover family.

          Friday, on April 13 he had his second entrepreneur competition which was held at the University of San Diego against thirty-five other students, each representing different high
schools. Out of six hundred applicants, only thirty-five students were accepted, and out of
those competitors, Jeremy was one of the twenty-five students that graduated from the
FutureBoss program. A non-profit program that gave the students the opportunity to gain more knowledge about the fundamentals of creating a business and becoming successful.

         These students were required to spend a week at USD taking university level entrepreneurial classes. They had to create a business plan in just four days in order to present their five minute pitch to six judges and a large audience. It was challenging but Jeremy's sleepless nights were definitely worth it, claiming the competition to be an enriching experience that led to some great connections.

        Although he did not win, as he expected, Jeremy did not let it get to him.  He took this as an opportunity to show on social media that failure happens to everyone, and demonstrated accepting failure with grace.

       " I've noticed time and time again, that if you keep your head held high, and give it all you got, the trench you fall in is actually just a trampoline to prepare you for something so much
greater. Knowing what I know now, I know that life is challenging me again and preparing me for something greater," said Jeremy. "Steve Jobs didn't make it the first time, nor did Michael Jordan or Oprah Winfrey. Well challenge accepted I'm already signed up for my next competition, next month! I am so thankful for everyone that supported and sent positive vibes!
          In fact, last year Jeremy made Hoover history by leading Hoover's first team to participate in the Nick Cannon Business Plan Competition (with teammates Erick Cortez and Mayra Arriaga), which was also the first team to take 1st place in this competition. While Jeremy is preparing for the competition once more, he is working hard to actually launch the start-up with guidance from FutureBoss competition founder Miguel Vasquez and director Justin Jackson. Jeremy's constant way of challenging himself inspires many cardinals to follow their dreams.

About the Writer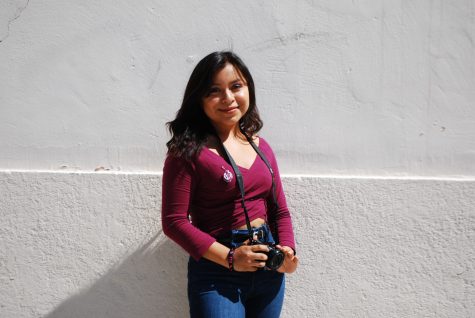 Elizabeth Lopez, Staff Writer
Elizabeth Lopez, a tiny person with a big heart. She is a senior at Hoover High, always on time ready to learn. She was born in San Diego, pero tiene sangre...