Eddie Aikau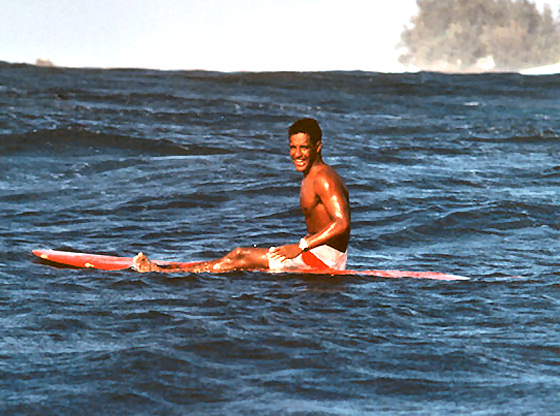 Edward "Eddie" Makuahanai Aikau was born in Kahului, Maui, on May 4, 1946 and was a well-known Hawaiian lifeguard and surfer. The words Makua Hanai in Aikau's full name means "feeding parent, an adoptive, nurturing, fostering parent," in the Hawaiian language. As the first lifeguard at Waimea Bay on the island of Oahu, he saved over 500 people and became famous for surfing the big Hawaiian surf, winning several awards including the 1977 Duke Kahanamoku Invitational Surfing Champ.
Aikau was a descendant of Hewahewa, the kahuna nui (high priest) of King Kamehameha I and his successor Kamehameha II. Aikau first learned how to surf at Kahului Harbor on its shorebreak. He moved to Oʻahu with his family in 1959, and at the age of 16 left school and started working at the Dole pineapple cannery; The paycheck allowed Aikau to buy his first surfboard.
In 1968, he became the first lifeguard hired by the City & County of Honolulu to work on the North Shore. The City & County of Honolulu gave Aikau the task of covering all of the beaches between Sunset and Haleiwa. Not one life was lost while he served as lifeguard of Waimea Bay, as he braved waves that often reached 30 feet (9.1 m) high or more. In 1971, Aikau was named Lifeguard of the Year.
At 31 years of age, Aikau joined the voyage as a crew member. The Hōkūleʻa left the Hawaiian islands on March 16, 1978. The double-hulled voyaging canoe developed a leak in one of the hulls and later capsized about twelve miles south of the island of Molokaʻi. In an attempt to get help, Aikau paddled toward Lānaʻi on his surfboard. Although the rest of the crew were later rescued by the U.S. Coast Guard, Aikau was never seen again. He was officially pronounced dead on March 17, 1978.
In Aikau's honor, the surfwear company Quiksilver sponsors "The Eddie"—the Quiksilver Big Wave Invitational in Memory of Eddie Aikau at Waimea Bay.