Baseball Season Serves as a Lesson
Hang on for a minute...we're trying to find some more stories you might like.
Hoover's varsity baseball team was given the chance to play at Petco Park. As Principal Babineau went out to throw the first pitch, the bleachers slowly became packed.
The team struggled to hit, as Kearny High scored one after another off of little hits that were just out of the fielders reach.
"To be playing here as a senior," said senior Anthony Villalba, the team's varsity catcher. "It was just an amazing experience that I hope will be passed on to the up and coming players!
Despite the fact they didn't win, the team still has high hopes to win future games. The thing about baseball is that, if you do not hold the right mindset from the start of the day, you may not play to your fullest. Seeing as how baseball is 70% mental and 30% physical, the likeliness of success is something that you can never be so sure of.
Coach John Bendy stated that the team is continuing to make progress with much potential to be a winning team. He continued that when the season started, not many of the players had played on the same team, meaning they don't have as much chemistry as many of the other teams do. With a team full of talented players, only time can tell when they will come together as a completely solid team.
Many of the current players are underclassmen and they will hopefully continue into the next season to turn into a team that will represent Hoover well. With hopes and desires to win the rest of the games to come, the team continues to improve in both physical and mental attributes.

About the Writer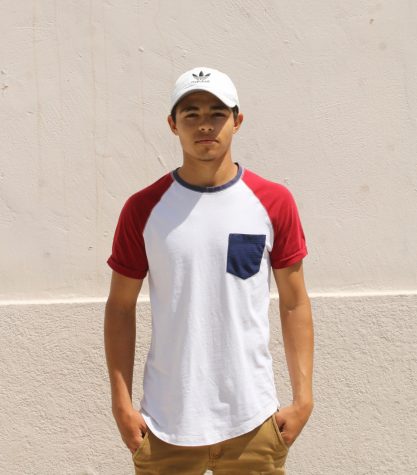 Josiah Chavez, Staff Writer
My name is Josiah Chavez and I'm a part of the Hoover's baseball team. All my life I have been a very athletic person and have always been outside playing sports or riding BMX. I just can't stand it when I'm trapped inside all day doing nothing. My whole family has always been very active, after all my whole family raced BMX or at least played in some sort of sport.
I was born in New Mexico, and I moved to San Diego after my dad got stationed to Miramar Base. I later moved to City Heights after my parents separated and my dad was constantly being stationed to different bases. When I started high school I was first at Kearny for freshman and sophomore year. By my junior year I had decided to go live with my dad in North Carolina where I had experienced a completely different atmosphere. While I lived there I had been on my school's wrestling and baseball team. Baseball is something that I believe helped me get through a lot of the tough situations life had to throw at me. By the end of the school year I had made the decision to move back to San Diego to live with my mom which is why I now go to this school.