Perfect Land
Hang on for a minute...we're trying to find some more stories you might like.
Perfect Land is a freshman at Hoover High School.  He is an excellent student who keeps up with his grades so he can play football.
Perfect plays running back for the junior varsity team.  Since it's his first year playing, he started putting in extra work into his football workouts which started in August.  All that hard work has paid off to be recognized by the Athletic Director, Coach Vanessa Stahley as The Cardinal's Athlete of the Week.
Perfect is also being recognized for his amazing performance against the Castle Park Trojans on September 13.  Even though he isn't big like some of the other players, his heart and determination helped him run more than 150 yards and scoring two touchdowns.
"I wouldn't be able to do that," explained Perfect.  "If it wasn't for the offense line."
Perfect rallied four tackles which helped score points.  This amazing performance lead the Hoover Cardinals a 37-10 victory over the Castle Park Trojans.

About the Writer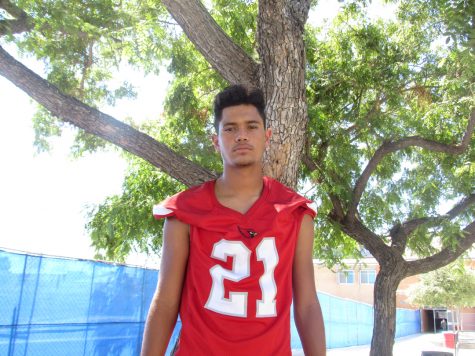 Brian Quirarte, Sports Writer
They called him El Brian, everyone knew who he was; tall, handsome, athletic, and smart. Brian likes to play sports especially soccer and football because...