My privacy belongs to me
Hang on for a minute...we're trying to find some more stories you might like.
Privacy is the liberty to decide who, what, and how much personal information you want to share regarding your life.  Privacy is a human right and a crucial feature of liberty. An individual should have control over how their person information is collected and dispersed. A person has the right to express themselves selectively as long as it follows our values and comfort levels.
Most of us are aware that social media has disrupted the concept of "privacy."  Social media is a dark place because everything you post can be stored whether it is a screenshot, screen recording, or big companies storing our personal information  for "research." Sometimes you have to be cautious of what you post on social media even if your account is on private because it could get to a person you didn't want to disclose that information to such as a parent or even an employer.
I personally don't trust my friends enough to share all of my life or information that I know could backfire on me. I maintain my privacy by disclosing a minimum amount of information about my relationships, and associations. I've never been in a situation where my information was disclosed without my knowledge.  If someone were to share information about me without my knowledge, I would go confront that person. I am not the type of person to let myself get walked on I stand up for myself and what I believe in. I know others who would start or fight or something ludicrous, but I don't believe in doing things that are ineffective.  I want to do something that will prevent the situation from occurring a second time. I do not condone fighting but if it is a trusted friend, I would confront them because I don't appreciate being lied to.
About the Writer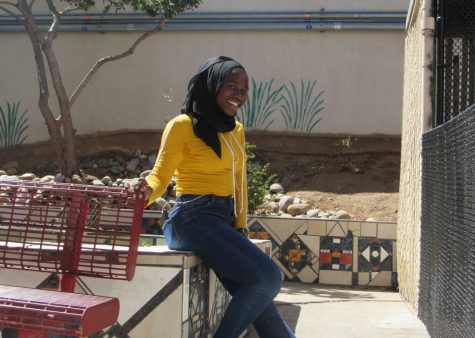 Machair Ahmat Adam, Staff Writer
Machair Ahmat Adam is currently a 15-year-old sophomore who attends Hoover High School. She is considerate and understanding and believes everyone should...