Youth against gun violence
Hang on for a minute...we're trying to find some more stories you might like.
On October 3, staff members from The Cardinal were invited to attend a community conversation with gun violence prevention activitist Bishop Cornelius Bowser. Mr. Bowser was the recipient of the Community Heroes Award presented by KPBS and the National Conflict Resolution Center for his work on preventing gun violence. The conversation revolved around how gun violence affects youth, their families, and the community they live in. They were also asked to discuss possible solutions to help stop the cycle. Hoover High School was the only school at the event.
Gun violence affects students directly or indirectly.  The whole staff was assigned an opinion editorial on how gun violence has affected them.  The power of their voices can be heard below.
Respecting the privacy of the writers chosen to be published, only their grade will be assigned.
"Many people have been affected by gun violence. Lately, gun violence has been one of the biggest problems in our society. Teens have been bringing guns to school and adults have been using them on the streets. Hundreds of people have been killed or injured because of the lack of control there is towards guns. Many families have been affected including mine.
My cousin passed away due to gun violence. He was involved in a gang and they had recently gone to Ensenada to party and this one guy he have had problems with, and his whole gang, tracked him down. My cousin was at a club by the beach and the guy saw him and just shot him right when he saw him. They weren't able to find out immediately who had shot him but they had an idea of who it could've been. So my cousins friend saw one of the guys from the other gang posted on Snapchat that they were in Ensenada at the same time they were there.
Eventually, they arrested the guy and his gang and they put them in jail. They got 6 years in jail but the guy who shot my cousin got 30 years because they found out he had killed multiple people before. My cousins unfortunately passed away and left his pregnant wife and two daughters. Gun violence is very hard to control, since we can't be keeping track of what everyone's doing or if they're carrying a gun or not. We could just talk people, especially teens, about why gun violence is bad and why using or carrying a gun at school or anywhere in public is not worth for them eventually going to jail. Therefore, I think that talking to teens is the most efficient way to try and make a change in our society." ~Senior
"One day, when I got home from school, my mom tells me that my cousin was shot in the street. I was just fed up, because the cousin that was shot died and that was the cousin I talked to most of the time. I just don't get why people have to kill others just so they can think they're important…that just makes them a bigger loser just for taking an innocent life. I would just love it if the stupid government would clear the streets of all gangs.  I want to feel safe when I go out. I want my little sister to feel safe when she goes outside to play with her friends. I don't want another one of my family members to die just because a man or a woman decided to shoot them.  You get nothing out of just killing an innocent person." ~Senior
"Almost every three months there's a gunshot. Sometimes when I'm sleeping and it's the middle of the night, all we hear are loud bangs. We don't even know the difference between a firework or a gunshot anymore." ~Sophomore
"A three-year-old boy was shot and killed in the backseat of the car. It all started with an argument with the father and another person who had a disagreement with him. He had gotten into his vehicle where the mother and child waited and tried driving off where shots were fired. It ended up hitting the little boy. It's horrifying how people think violence, especially gun violence can solve their problems. A little innocent boy was killed because of it." ~Junior
"Gun violence affected me in multiple ways. There are times where I seen people that I cared for get shot and there's times when my family members shot at others. It just leaves a bad vibe whenever there's a gun present because of everything that has happened in front of me. I don't promote gun violence because there's a huge change it can end someone's life. I rather people handle their "beef" with fist fighting because it let's the two people show who can back up there "beef" instead of a high-powered machine that anyone can use to kill someone." ~Junior
"I am in that group of students that have been afflicted with gun violence. My grandfather was a victim of gun violence that has left some of my family members with depression and other mental illnesses. Not only was my grandfather a victim of gun violence but someone very important to me was also a victim, and this person's children had to grow up without him. I can't help but wonder about all the things they would have done if their lives weren't taken away from them so soon. I also can't help but wonder how much my life has been affected because someone decided that it was okay to take away someone else's life because they were not pleased with their own life. It is not fair to lose someone to gun violence. Shooting someone not only affects the victim but the victim's family and friends are affected too." ~Junior
"My dad and my brother were at the bus stop when a young man walked towards them and forced my dad and my brother to give him money or he'll use the gun on them.  Before anything extreme happened, the police arrived and the young man hurried into an alley. This happened four months after we arrived in America. Two years later there was a shooting around the area I live. Everyone at my house was asleep when the shooting started. My whole family woke up wondering what the noise was, and we all peeked through the window and recognized four of my neighbors. My neighbors were running and shooting at some guys. We then woke up the next morning and was told "your neighbor died last night." I was sad and scared at the same time because I knew him and it was something that would of happened to anyone including me and my family." ~Junior

About the Writer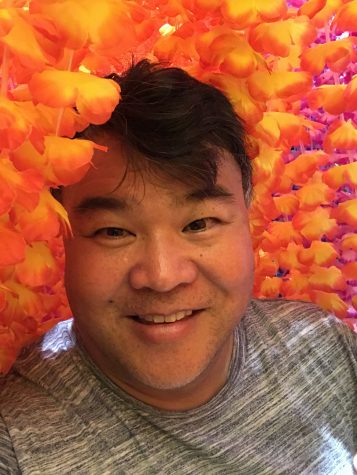 Mr. Michael Heu, Adviser
Mr. Michael Heu is the advisor for publications which includes the yearbook and The Cardinal website.  He is in his 13 year at Hoover and wouldn't want...