Mario Molina
Hang on for a minute...we're trying to find some more stories you might like.
Mario José Molina-Pasquel Henríquez  was born on March 19, 1943, and is a Mexican-born American chemist reputed for his pivotal role in the discovery of the Antarctic ozone hole. In 2004 he became professor at the University of California, San Diego and the Center for Atmospheric Sciences at the Scripps Institution of Oceanography. He was a co-recipient of the 1995 Nobel Prize in Chemistry for his role in elucidating the threat to the Earth's ozone layer of chlorofluorocarbon gases (or CFCs), becoming the first Mexican-born citizen to ever receive a Nobel Prize in Chemistry.
Mario Molina joined the lab of Professor F. Sherwood Rowland in 1973 as a postdoctoral fellow. Here, Molina continued Rowland's pioneering research into "hot atom" chemistry, which is the study of chemical properties of atoms with, and only with, excess translational energy owing to radioactive processes. This study soon led to research into chlorofluorocarbons (CFCs), which had been accumulating in the atmosphere.
In 1974, as a postdoctoral researcher at University of California, Irvine he and Rowland co-authored a paper in the journal Nature highlighting the threat of CFCs to the ozone layer in the stratosphere.
On August 8, 2013, President Barack Obama announced Molina as a recipient of the Presidential Medal of Freedom.  Mario Molina is a visionary chemist and environmental scientist.  He is the director of the Mario Molina Center for Energy and Environment; and a member of the President's Council of Advisors on Science and Technology.

About the Writer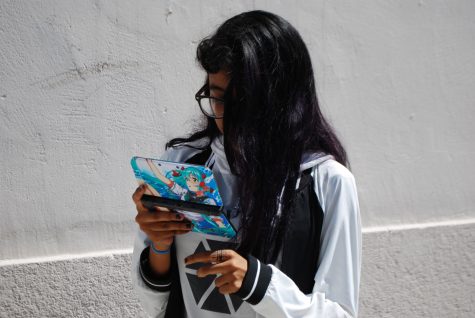 Violeta Arreola, Staff Writer
Violeta Arreola Molinero, a junior at hoover high, tends to get her hair dyed to different shades of purple or lets all the color go away. She loves to draw and thanks to that she has a bad habit of drawing on most papers she gets her hands on. Besides that she also like to paint. She may say she's not that good at math, but she's a great partner to have in group projects if  an artistic person is needed. Besides drawing and painting she's very into photography, she likes to be the one taking the pictures. She has 2 little sisters, and two cousins who attend Hoover, one in 11th another in 10th. She's in Cardinals Interact and is thankful for all the opportunities they have given her to earn a lot of community service hours. Violet has over 70 hours of community service. She prefers for people to call her Violet because it's easier for people to say. She may seem shy but can be very social once you befriend her. Some of her favorite stores are Muji and Daiso. There you can buy very aesthetic school supplies for good prices.