We Are Excellent!
Hang on for a minute...we're trying to find some more stories you might like.
Reprinted from February 28
The Brothers of Excellence has gained momentum and was picked up by KPBS,  'Brotherhood' At Hoover High Helps African American Male Students Succeed.
On Saturday, January 26, a new cross academy fellowship, The Brothers of Excellence, established itself on Hoover's campus.  15 African American students welcomed author, and one of Hoover's new student teachers, Mr. R. Preston Clark who read and discussed excerpts from his book Vinnie: a love letter.  The novel is from a 14 year-old perspective of a young black male's experience through toxic masculinity, femininity, religion, friendship, fatherhood, race, patriarchy, education, and the like.
BoE's first official meeting was held on January 31 during lunch in Ms. Gooch-Noyes' room, where 14 boys attended and 10 of them completed a survey to offer feedback and suggestions for future discussions like the one held on the club's launch.  Retired Mental Health Clinician Mr. Kasimu Harley, facilitated the discussion and graciously provided a Jamaican feast from Island Spice. In addition, Mr. Spriggs and Mr. Hilliard have provided consistent support each week.
"My thoughts on the Brothers of Excellence (BoE) is that we are a whole. We come together as one bringing our thoughts and concerns.  We understand the concern of how the everyday life plays a role in our society towards black men," expressed junior Isaiah Price. "We talk about our inner perspective of what we deal with like for example: prejudice, racism, and etc.  We accept others into our community. We love one another, care, and lift up our fallen brothers who need a helping hand. We have talks and just are free letting the brothers express themselves without being judged."
Since BoE started, members have been involved in riveting discussions with Student Advocate Mr. Jeremy Robinson, lively conversations with Carlos and Ernie McCray of The Dojo Cafe, and most recently attended the Writer's Symposium by the Sea at Point Loma Nazarene College where they spent an evening with Dr. Nnedi Okarafor who is an international award-winning novelist of African-based science fiction, fantasy and magical realism for both children and adults. And on February 27, BoE held their first movie night featuring The Hate U Give.  The film follows the fallout after a high school student witnesses a police shooting. Members participated in a Q&A with local police, Officer Keenan Patterson.
Since its kickoff, word has spread and members are inviting friends and other students to attend and as this went to publish, they have doubled in size.  The group was organized to create a safe environment for the black males on Hoover's campus to express specific concerns that may involve them, to empower them to create bonds and build community to support each other, and to teach necessary skills that will aid in achieving their goals.
About the Writer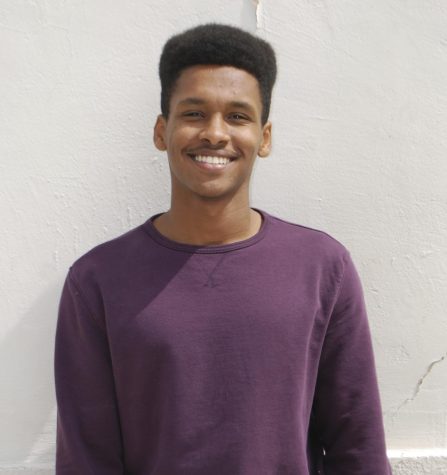 Sofonyas Shibre, Former Editor in Chief 2017-2018
When I'm not publishing articles, I'm playing soccer and volleyball for my school. I love my sports in general, from basketball to just going to the gym,...