Hoover Peace Symposium
On April 20 from 8 – 12 pm, Hoover will be conducting its first Peace Conference Against Gun Violence in the small gym and annex.
The idea came from a group of publications students who went to a KPBS event to hear Bishop Cornelius Bowser speak on gun violence and how it affects everyone directly and/or indirectly.  Hoover students were the only young people in attendance and it was decided after the event that Hoover should host one similar too.
"The students who went to the event agreed that more young people needed to hear others speak about this topic," said publications advisor, Mr. Michael Heu.  "So I asked them what would it look like if they created an event."
Senior Leslie Osuna, juniors Makayla Siharath and Apiew Abella, and sophomore Machair Adam, met with Ms. Jennifer Vermillion from the National Conflict Resolution Center, San Diego to further discuss how the event would look at Hoover High School.  Social Justice Academy Director Ms. Yolanda Noyes was invited as the group progressed, and when Machair brought up the topic of mental health, Academy of Health and Healthy Communities Director, Ms. Ellen Hohenstein, was brought in to help facilitate the mental health workshops.
The event is open to the whole school but the invitation has been sent to Crawford and Lincoln high schools as well as Horace Mann, Monroe Clark, and Wilson middle schools.  Other organizations include Mid City Can, KPBS, Generation Justice, and the San Diego Police Department. The event will also include Hoover alumni, Roberto Gaytan and Tony Nguyen, both from the class of 2012.  Both grew up in City Heights and it was their experiences that lead them to law enforcement.
"We hope that this event will provide students with resources," explained Machair.  "Many of our students have experienced gun violence in some way. They need to know that if they have questions, there are places that can help."
KPBS news correspondent, Tarryn Mento, came out to interview Machair and Makayla about the upcoming event.  Both girls explained how they were inspired at the community heroes event they were invited to by KPBS.  Both girls agree that students of Hoover need to discuss this topic more openly and it is their hope that students will attend this one and ones in the future.
For more information and registration:
Peace Conference Against Gun Violence
About the Writer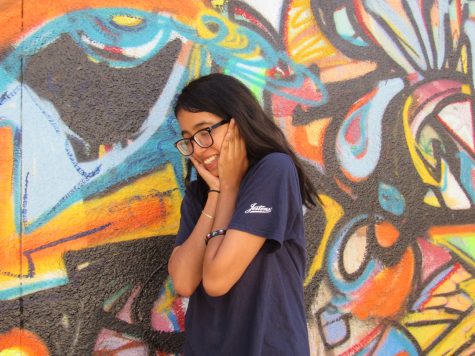 Violet Arreola, Senior Editor
Violeta Arreola Molinero is a senior at Hoover High. She's a very creative student. She loves to draw and thanks to that, she has a bad habit of drawing...