Happy Thanksgiving!
Have a safe Thanksgiving Break! No school November 25-29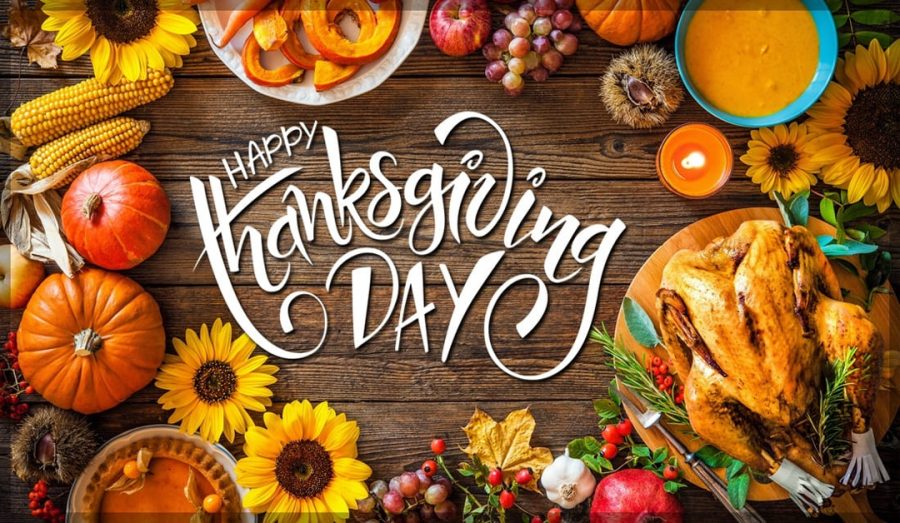 The staff of The Cardinal wishes the students, staff, and faculty of Hoover High School a very happy Thanksgiving!  During this time, the staff expresses what they are thankful for.
Paloma Ocampo
I'm thankful for many things in my life like my family, friends and my cat, even though I'm slightly allergic to him. I'm thankful for my family because they are always going to be their when I need them and they support me unconditionally when I'm trying to do something. They also push me in order to succeed at what I'm trying to do. I'm thankful for my pet cat, blanco, for being a soft and cuddly thing. Even though I'm slightly allergic, I feel joy every time I get to pet him and get to hold him. Lastly I am thankful for my friends for always being there and cheering me up when I'm done. They make me smile and laugh when I need to and they are just the best things to happen to me. They have brought light to my world and have helped me with work and with understanding things that I don't understand. I'm thankful for these things cause they made life a little sweeter.
Martha Nunez
Thanksgiving, the day of giving thanks to loved ones and god, being grateful for everything that has helped you in the year. In my family, both my American and the Mexican family members, we celebrate Thanksgiving together, and we all meet at my grandma's house for her lovely dinner cooked for us, and we all share our gratitude in the table. I am grateful for quite a lot of things, but most importantly, my family, friends, God, and living another year. I am beyond grateful for my friends and family because of all the things they've taught me taught me to live life more exciting, to take risks even when I fear them, to always accept me for who I am. I am also very grateful to have God everywhere I go, and for continuously bringing good times in my life. For one, not only has He helped me realize that hard times bring good things but always making a blessing every time something challenges me. Every day there's something to be thankful for, just like I've mentioned with my family, friends, and God, but also simple things like music, having oxygen in my lungs, and being able to enjoy the beautiful view life has to offer. Those are the reasons for who and why I'm thankful this year, and I hope everyone has a happy Thanksgiving too.
Alexa Moreno
What I'm thankful for is being here alive today. I'm thankful for having my education since some people don't even have the chance to get one for free. Having an education is honorable and can open doors to many things later in the future. I'm grateful for having good people who I'm surrounded by, especially when I need help and need someone to talk to, I could just call up one of my friends and they help me out. My friends help me through huge panic attacks and breakdowns. I'm grateful for having my family by my side and that they're doing good in case any of us need help. I'm happy that my family is stable and can handle me since I put everyone through a lot because I'm an "extra" person. I'm super grateful about a fridge full of food because some people don't have that advantage and don't eat as often as I do when I have breakdowns. I'm grateful for most of my teachers, I know that they're always there for me and will care for me. My teachers always try to make me feel better and want to make me laugh and smile. I'm thankful for everything I have in my life I don't like taking anything for granted.
Jasmine Gonzalez
Every year when Thanksgiving nears, the question that is most often asked is, "what are you thankful for?" I answer that question with my family and my friends. As the years have gone by, I feel like I have even more reason to be thankful for all that they've done for me. Before high school, I never really held a conversation with friends I had, I just sat with them, listened to them, but I never actually talked to them. I've started to hold longer conversations with my friends and have felt more happy and included. Because of Cardinals Interact, the program I'm in, I feel like I've been able to grow a stronger connection to more people and have been able to make more friends because of it.  I've been able to tell my parents more things about myself that I was afraid they would disapprove of. I feel like I've grown an even closer bond to them now that they understand certain things better. With my sister, I rarely argue with her these days and I feel like our bond is closer than ever. We're like best friends and anytime she needs me to comfort her when something bad happens, I try my best to help her.
Jackie Ocampo
I am mostly thankful for my family. I wouldn't have everything if it weren't for them. They support me in everyway that they think is right. They do everything that they think is best for me for my future. They always give me life lessons that are very important for the my future to get for further. I'm grateful for them because they work hard everyday for me to have four walls and a roof with food on my plate. Without them I would be lost and wouldn't know how to start with my life. They always try their best to cheer me up when I feel down or when I feel sick, they do everything in their power for me to be comfortable as possible. They're not so tough on me like I've heard my other people's parents that are the complete opposite like mine. Everything they do for me makes me very grateful for what they do.
Thuan Tran
We Vietnamese don't have a holiday for Thanksgiving but we in the U.S. find every reason to celebrate it. Food and family gatherings are irresistible in the month preceding Christmas. Instead of turkey, chicken and beef are prepared in the traditional dishes for an All-American Vietnamese meal. I find reasons to be thankful for my family, which does not take only Thanksgiving to be thankful for. Family is a core Asian value that is ingrained within me from years of interaction with my grandpa. Without family, it would be like sinking in quicksand because there is no foundation. The first teachers I ever had were my dad and grandpa. Without them, I do not believe that I would be the person I am today. On the foundation of family is built an unbreakable moral code and support system for every success and failure that I encounter. Better yet, I am thankful for being Vietnamese. I would not choose to be anything else. Being Vietnamese has connected me to wondrous, age-old traditions shared with China. Receiving Lì Xì and eating Bánh Tét on Tết is an experience that few without Asian connections would have. I am thankful for these things this Thanksgiving season, as well as our Vietnamized holiday dinner.
Lindsey Arzola
I'm not always giving the thanks I should be giving for the people around me, I don't say it very often to show that I am grateful for them but when Thanksgiving comes around, it becomes a time I can actually give my thanks for everything and everyone around me. I am thankful for my family, my parents who are always supportive of me, my sister being so friendly with me although she's super annoying sometimes. I am also thankful for my friends who stick around even though I may not see or talk to them everyday, we still talk and have fun, as well as my best family friend, my cousin who can be weird but I actually thank him for all the Star Wars craze he got me to obsess over. Overall im just thankful of my life and the people around me who impact me everyday and helps me become a better person.
Vanessa Medina
I am thankful for the opportunities I have received this year. This year I was chosen to be the San Diego Unified School District Joint Brigade Brigade Commander. Being brigade commander, you receive the highest rank, cadet Colonel, which is only held by one cadet out of the thirteen schools in the SDUSD Joint Brigade. It was such an honor to be chosen out of other high achieving students. To be the best of the best. Not just that but I was the first person since 2002 from Hoover to hold that position. Almost twenty years. I cried the day I was officially promoted because I felt that all the hard work I had put in the past three years were in preparation for this. Also, because it was my opportunity to bring my school a new kind of reputation. Another opportunity I was able to have this year was being accepted into the Girls Take Flight program. I learned so many new things about STEM and its applications. I learned different ways drones could be applied to my interests and how they will change the future. Beyond that I am now a certified Part 107 Remote Pilot. Not only did that take a lot of effort but less than 1000 teenage girls in the U.S. can be proud to say that they are. Through this internship program I also got to visit many companies leading the way in the drone industry. All in all, it was such an amazing and humbling experience. I wouldn't have been able to do this without the support of so many of my mentors, teachers, students, and family. I am thankful to them all for allowing me to strive for greatness.
Annayexy Malo
I am thankful for waking up today because it's something that I should be grateful for. Life has taught me that it's not always going to be easy, there is always going to be ups and downs such as struggles leading to blessings. This helped me view a better understanding to value life and those who are in my life. It taught that people always come and go, such as friends and family members but I realized to always put myself first and learned how to be independent. I'm honestly am thankful that I have gone through ups and downs because it's how the real world works and it has prepared me. Everyday I make it worth it and enjoy my time because not many people make it the next day. I'm proud of my life because it has improved by my actions and how well I maintain it.
Miryam Fajardo
I am thankful for my family, my sister and my mom, for everything that they have done for me, especially because they always push me to continue to do better. I am thankful that they are always there for me when I need them. I am thankful that they trust me and that I know I can count on them whenever I need someone to talk to. I am thankful for my friends who always support me and encourage me to go beyond my limits. I am also thankful for school because it allows me to study and eventually pursue a career that will allow me to do something that will help out my family and my community. In addition, I am also thankful for having a home, clean water and clothes especially because there are many unfortunate people who at the end of the day don't have a home or family to look forward to.
Persephony Phoev
What I'm thankful for this year is my siblings, another day to live and having a better life/health. I'm thankful for my siblings because they give so much motivation and they keep me going in life. If I ever feel like I'm giving up, I just look at their pictures and think how can I make their lives better for themselves. They keep going in life just by being there for me and just by making me laugh so much. I care for my baby brother and my sister so much that they give me the love I really need in life. I'm thankful for living another day in this world, and it's given me a chance to keep going on and to never give up on anything I put my mind to. It gives me more bad/good examples to not and do in life. I'm really thankful to be on this earth still because I have a meaning to be here or be something. Now I'm really, really am thankful for having such a better life/health. I've given people to walk all over me, listen to everything they say to do and ended a toxic part in my life. I don't think anyone should live in that kind of lifestyle at all because that is not healthy for you and your body it's not healthy at all. When I did ended that part of my life my life has gotten so much better. I've gotten all of my personal stuff done and check, I stopped hanging with people that care for me or try to help and for that I'm really thankful for myself that I ended that old lifestyle I had. I'm really thankful for the things I have right now in my life.
About the Writer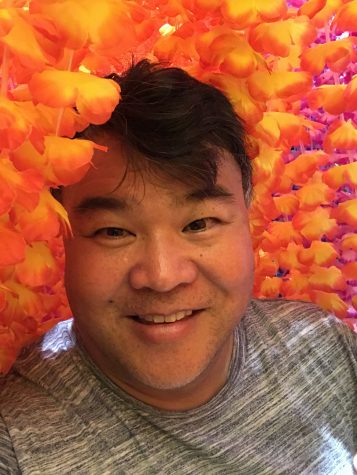 Mr. Michael Heu, Adviser
Mr. Michael Heu is the advisor for publications which includes the yearbook and The Cardinal website.  He is in his 14 year at Hoover and wouldn't want...