Part 1 My childhood started out great
Part 1 of a series about a teen's life growing up in San Diego.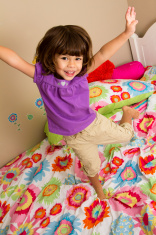 Blanca Paloma, Guest Writer
November 22, 2019
The name has been changed to protect the writer's privacy.
My name is Blanca Paloma, and I live in San Diego California and grew up in City Heights in a house. Growing up things were absolutely amazing, such as having a stable home with a happy family.
When I was young, I was very spoiled and my parents would buy me everything that I wanted because I was the only daughter. I had my own room and honestly my room was packed with toys and much more. I honestly felt like a happy child because I had the attention and the love was always around. We would travel everywhere and the happiest place my parents would take me to was Disneyland. Coming home was something I always looked forward to because dinner was made by my amazing parents and we would share how our day went while eating at the table.
I would also enjoy having movie nights with my family because we were united and it was something nice. Our communication and our bond was something great because we were all so open towards each other. I would rely on my parents because they were the ones who guided me to do the right thing and go to school. It was a huge blessing having them and also because there wasn't any stress in our beautiful house. I honestly have so much memories that I can always look back when my mom and I would bake cookies, make red velvet cake and also make some champurrado to watch my dad's favorite action movie.
Another memory was when I was with my dad and he would ask me to help him out in the backyard to cut grass and organize our back yard with the tables and chairs. The reason why we would fix the backyard was because almost every Sunday, our family would come over and barbeque , then we watched the football game together or just spend quality time together.
I remember when we had a family trip to go celebrate christmas in Mexico with my dad's family.  I would always have fun because everytime we go over there, our cousins and I would buy firecrackers and just light them up. Our family has traveled more than usual because my parents wanted me to meet other family members so I can get along with them. For example, during the summer we would travel to La Paz which is kinda far, and we would drive four days straight to get there. It was uncomfortable during the morning because it was always hot but at night the air felt so fresh.
My last memory was that every Sunday morning, we would go to church and after, we would go have breakfast with our families or just ourselves but it was nice because we were so united and didnt have no economic problem, it was stress free and we would mostly just go out to have fun and experience something new.  I can always look back and say to myself that it was all good while it lasted. I just wished I had more of it until things changed.