AOTW ~ Serenity Chheun
This week's athlete of the week goes to the astonishing and remarkable Serenity Chheun. Serenity is a freshman at Hoover High and a part of this year's Girls Varsity Basketball team. Basketball is one of her passions as she has been playing for around 8 years. Serenity is a phenomenal player on the court as she plays with her heart. She is humble and outgoing. During a basketball game against Crawford, Serenity finished the game with 13 points and three 3-pointers. She is a student that many others look up to as she exhibits Cardinal Pride by being determined to do her best in school and by being passionate about the sport she plays. Basketball has taught her a lot of things but mainly to be a leader and how to overcome the challenges in life. She is grateful for the opportunity to play basketball at Hoover and says that they have had a very tremoundse season. After she graduates from Hoover, she hopes to go to college. She hasn't decided what she would like to study yet or if she would still like to play basketball but she wants to be happy and healthy in the future. She looks forward to playing basketball for the next three years.
About the Writer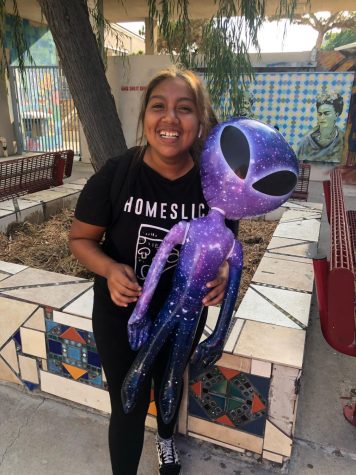 Angie Galan, Editor-in-Chief
Angela Galan Martinez is a senior and part of the ALMA academy. She has attended Hoover High School for all four school years. She is the class of 2020...