Jenni Rivera
In honor of Hispanic Heritage Month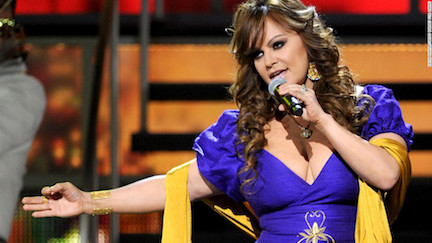 Dolores Janney "Jenni" Rivera Saavedra was an American singer, songwriter, actress, television producer, spokesperson, philanthropist and entrepreneur. She was known for her work within the Regional Mexican music genre, specifically in the styles of Banda, Mariachi and Norteño.  The New York Times have labeled her as the most important female figure and top selling female artist in Regional Mexican music. Billboard magazine named her the "top Latin artist of 2013", and the "best selling Latin artist of 2013".
Jenni Rivera was very successful. She became a mother when she was only fifteen years old with the first of her five children. Being a young mother while in high school, she never gave up and made sure that she finished high school and obtained a college degree in business. Her father was a bartender and businessman who created the record label Cintas Acuario in 1987, which launched the career of Mexican singer and songwriter Chalino Sánchez.
Rivera's musical style was classified as banda, a form of traditional Mexican music popular in Mexico and parts of the United States with large Hispanic populations. Banda music originated in the state of Sinaloa and the music sound is primarily instruments such as tuba, clarinets and trumpets, i.e. Banda El Recodo; Banda La Costena.
Aside from music, she was active in her community and donated her time to civic causes. The National Coalition Against Domestic Violence appointed her its spokesperson in the United States. A proclamation was given officially naming August 6 "Jenni Rivera Day" by the Los Angeles City Council for all her charity work and community involvement.
Jenni Rivera was born on July 2,1969, in Long Beach and sadly Rivera, along with six others, died in a plane crash near Monterrey, on December 9, 2012.