Selena
In honor of Hispanic Heritage Month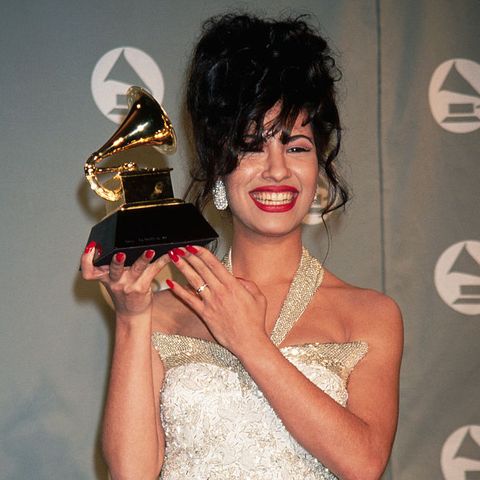 Selena Quintanilla-Pérez also known as Selena was a Mexican-American singer, songwriter, spokesperson, model, actress, and fashion designer. She was named the top-selling Latin artist of the 1990s decade by Billboard magazine and won a Best Mexican/American Album Grammy Award in 1994 for her album Live! which made her the first female Tejano artist to win the award. After she won the Tejano Music Award for Female Vocalist of The Year in 1987, her popularity grew.
Selena was born on April 16, 1971, in Lake Jackson, Texas. She made her debut in 1981 as a member of the band Selena y Los Dinos, which also included her siblings and began recording professionally in 1981. After her family declared bankruptcy and were evicted from their home, her band played at many different events like fairs and quinceañeras because they needed money. The demands of her performance and travel schedule began to interfere with her education as she grew popular. As a result, her father took her out of school when she was in eighth grade and was homeschooled. She earned a high school diploma from the American School of Correspondence in Chicago and enrolled at Pacific Western University, majoring in business administration.
Selena eloped with Chris Pérez on April 2, 1992. Her father disapproved of their relationship since he was worried that he was a chauvinist and fired Pérez. Her father, Quintanilla Jr. later apologized, accepted the marriage, and took Pérez back into the band. She began designing and manufacturing a line of clothing and opened two boutiques. Her album Amor Prohibido made Tejano music popular among a bigger and younger audience than at any other time in the genre's history. She won the Tejano Music Award for Female Vocalist of The Year for nine consecutive times.
Selena died from severe loss of blood after being shot by the president of her fan club and her former boutique manager, Yolanda Saldivar. Her burial was on April 3, 1995, at Seaside Memorial Park in Corpus Christi, Texas. It was broadcasted live by a Corpus Christi and San Antonio radio station without her family's consent.  Selena's murder had a widespread impact. Reactions to her death were compared to those following the deaths of musicians John Lennon and Elvis Presley.  On April 12, 1995, two weeks after Selena's death, George W. Bush, governor of Texas at the time, declared her birthday, April 16, as Selena Day in the state.