Melanie Revollar
Melanie Revollar is 17 years old, and born and raised here in San Diego, California. She is currently a senior at Hoover High School and part of the Social Justice Academy.  She will be graduating in June as the Class of 2021. After graduating, she plans to go to a community college to finish her general education courses then transferring to a university to major in criminology. People describe her as blunt, responsible and successful. Even though she keeps her circle tight she doesn't let any negativity get in her way of success. This year will be Melanie's third year as a cheerleader at Hoover.  She also recently joined the army national guard this year this past March. In her free time she likes to catch up on work, workout or catch up on some shows she enjoys watching. She loves and cares a lot about pets, and has one cat. A goal of hers is to hopefully become a CPS officer or work for the CIA or FBI. Her sister helps her a lot and encourages her to keep succeeding in life to get where she wants to be. As of right now, she is focused on finishing this semester as an early graduate.
About the Writer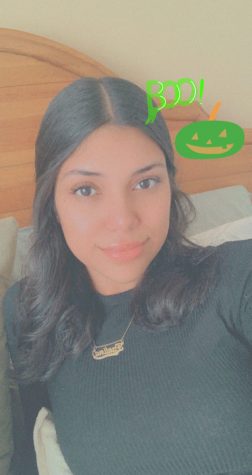 Paulina Urias, Staff Writer
Paulina Urias was born on January 21, in Riverside California but raised here in San Diego. She is taking publications because her sister would always...