Anahi Cardenas
Anahi Cardenas is currently 17-years old and was born in San Diego California on May 4th, her parents are originally from Zacatecas, Mexico. She's the youngest of one sibling and also works part time. She is now attending her fourth year at Hoover, in the ALMA academy and will be graduating along with the class of 2021. Anahi is a very intelligent and positive person who goes out of her way to help others and is someone reliable. Anahi's favorite color at the moment is gray. One of her favorite hobbies is painting, she's very talented. She likes painting because it's a way for her to relax. Another of Anahi's hobbies is going to the beach and hanging out with her family and friends, she enjoys quality time with them.
She is very active with the community in many ways, such as attending community service and after school clubs. She also did an internship with Youth Will and Ms. Gooch her junior year. Anahi hopes to be able to attend San Diego State to further her education, and lean towards becoming a counselor or social worker.
About the Writer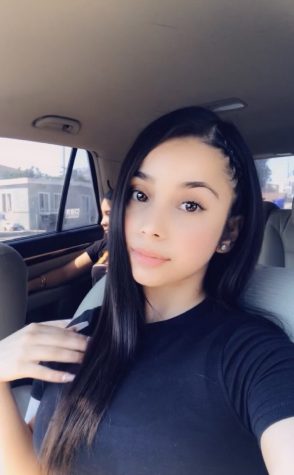 Leilani Llamas, Staff Writer
Leilani llamas was born on June 20, in San Diego California. She is 17 years old and currently in the 12th grade. She attended middle school at Bellevue...