Raising Cane's
My favorite place to go to is Raising Cane's Chicken Fingers. At times, it is very packed because a lot of people love going to Cane's. It seems like every time I go, there have been a number of customers there. The drive through is always full of cars.  The service is pretty fast so waiting is no biggie. Most workers there are nice and cheerful but everyone once in a while you'll get someone who is in a bad mood and just pure irritating. This makes the whole experience bad.
The first Raising Cane's opened in 1996 in Baton Rouge, Louisiana.  They have 530 locations around the world.  Currently San Diego has two locations, one on Mira Mesa Blvd. and one in Santee.  The founder, Tom Graves, was turned down numerous times often being told his business plan would not work.  So he raised the money himself to open the first one and the rest is history.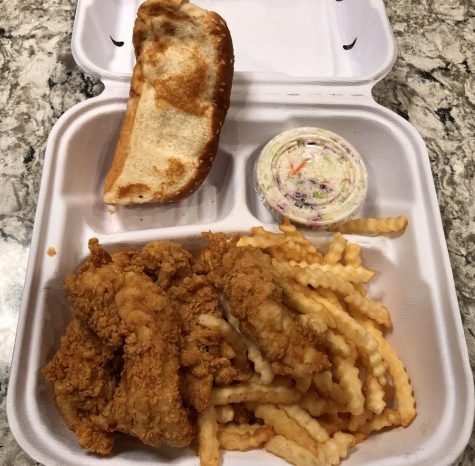 Cane's specializes in chicken fingers.   The most popular item in the Box Combo which has  four chicken fingers, crinkle-cut fries, one Cane's sauce, Texas toast, coleslaw, and a regular 22 oz. fountain drink or tea.  Cane's sauce is tangy with a little bit of spice and full of flavor.  The only sandwich is made with chicken fingers which makes it ten times better than any old hamburger. The sauce there with the chicken fingers makes it more tasty than how it should be. Everyone seems to hype up Cane's because once you taste it, you sort of start to crave more and more and eventually you start liking it more. As of right now, even though Covid is affecting the world, Cane's is still open with drive-through and delivery.