Patrisse Cullors
In honor of Black History Month, every day The Cardinal will feature a prominent and historical Black American, living or dead, who has worked toward change, advancement, and/or world peace. Some of them are heroes, and some are unsung heroes, who deserve recognition, and have made a contribution to society.
Patrisse Cullors was born on June 20, 1983 and is an American artist and activist and a co-founder of the Black Lives Matter movement. Cullors created the #BlackLivesMatter hashtag in 2013 and has written and spoken widely about the movement. Other topics on which Cullors advocates include prison abolition in Los Angeles and LGBTQ rights. Cullors integrates ideas from critical theory, as well as social movements around the world, in her activism
Cullors was born in Los Angeles, California. She grew up in Pacoima, a low-income neighborhood in the San Fernando Valley, and attended Cleveland High School in Reseda.  She became an activist early in life, joining the Bus Riders Union (BRU) under the leadership of Eric Mann as a teenager during which time she attended a year-long organizing program led by the Labor Community Strategy Center. She learned about revolutionaries, critical theory and social movements from around the world, while practicing activism.
Along with community organizers and friends Alicia Garza and Opal Tometi (both of which were featured in The Cardinal this month), Cullors founded Black Lives Matter.  The three started the movement out of frustration over George Zimmerman's acquittal in the shooting of Trayvon Martin.  Cullors created the hashtag #BlackLivesMatter in 2013 to corroborate Garza's use of the phrase in making a Facebook post about the Martin case.  Cullors further described her impetus for pushing for African-American rights stemming from her 19-year-old brother being brutalized during imprisonment in Los Angeles County jails.
Cullors credits social media being instrumental in revealing violence against African Americans, saying: "On a daily basis, every moment, black folks are being bombarded with images of our death … It's literally saying, 'Black people, you might be next. You will be next, but in hindsight it will be better for our nation, the less of our kind, the more safe it will be."
In 2017, she said that the movement would not meet with United States president Donald Trump just as it wouldn't have met with Adolf Hitler, as Trump "is literally the epitome of evil, all the evils of this country — be it racism, capitalism, sexism, homophobia."Cullors' book, When They Call You a Terrorist: A Black Lives Matter Memoir was published in January 2018. It was co-written with the journalist asha bandele and featured a foreword from Angela Davis. The Times Literary Supplement reviewed it as a "magnificent accomplishment."  It appeared at number 12 on the nonfiction hardcover The New York Times Best Seller list on February 4, 2018
About the Writer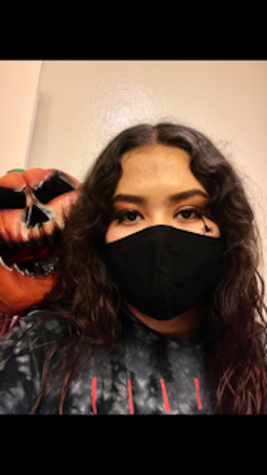 Martha Nunez, Senior Editor
Martha Nuñez is a senior at Herbert Hoover High School. She was born in San Diego on August 16. She's taking publications because she's interested...