Ms. Sharon Apple ~ Hoover High School's Teacher of the Year!
The Cardinal staff would like to end the school week honoring one of Hoover's own for Black History Month. Since arriving on campus, Ms. Apple has worked toward change and advancement for students who have worked with her. We would like to honor Ms. Apple today!
On March 18, 2021, it was announced that Ms. Sharon Apple is San Diego Unified School District's High School Teacher of the Year!  She will also continue to the next round to compete for County Teacher of the Year! Congratulations Ms. Apple!
Ms. Sharon Apple is currently an SJA teacher for freshmen at Hoover High School, and was named Hoover's Teacher of the Year.
Ms. Apple was born and raised in Brooklyn, New York and moved to San Diego when she was 11 years young. She was raised by a single mother during her childhood. She has a Guyanese background and is a first generation American. Ms. Apple attended school here in the San Diego Unified School District.  One thing she had to face growing up in school was being teased for her strong New York accent. She even tried changing her accent so she could fit in.
Ms. Apple describes herself as a very empathetic person that can relate to anybody's emotions and is always connected to the feelings she had her whole life. She first began her teaching career as a substitute teacher at Encanto Elementary and shortly after that, she received a contract as an intern which led to her attending school and teaching at the same time for seven years. She then went to Clairemont High School and officially started her career as an English teacher. One goal Ms. Apple has for the new year is to win the District Teacher of the Year.  She also wants to figure out better ways to engage her students in classes and wants to make sure they are connected to what they're learning.
Ms. Apple's two year old daughter, named Faith, motivates her to work hard. When she found out that she was pregnant, she realized that she needed to be a better person so she could be a role model for her daughter. One of her favorite things about teaching is hearing her student's voices, especially during this time of online school. It lightens her heart to hear them, no matter what she's going through. Ms. Apple's favorite foods to eat are curried chicken and macaroni and cheese. Also, her most favorite movie is Avengers: Endgame.
Congratulations Ms. Apple for being Hoover High School's Teacher of the Year!
About the Writer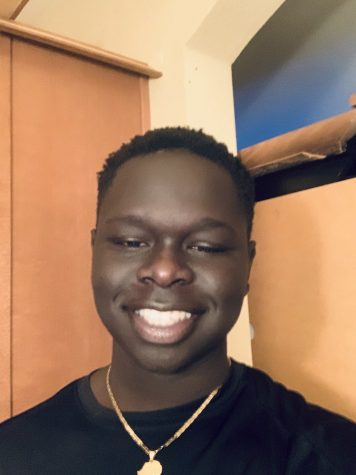 Gray Boul, Staff Writer
My name is Gray Boul. I'm a senior at Herbert Hoover High School and I was born and raised here in San Diego. I'm 18 years old and I was born on January...