Dark Man X
DMX, born Earl Simmons in Mount Vernon, New York on December 18, 1970 was an American rapper, actor, and songwriter. He had a troubled and abusive childhood which turned him into a "violent" person growing up. He spent time living in group homes and survived on the streets by robbery which got him in trouble with the law. Hip-hop was his saving grace.
He started out as a DJ and human beatbox and later on moved to rapping. He got his stage name from the DMX digital drum machine, also reinterpreted to mean "Dark Man X". DMX took over as the undisputed reigning king of hardcore rap after Tupac and Notorius B.I.G. died. He was a rare commodity, a powerhouse with artistic and street credibility to spare. His career ascended rapidly and he developed a theatrical image that made him rap's most distinctive personalities. DMX released his best-selling album, … And Then There Was X, in 1999, which included the hit single "Party Up (Up in Here)." He was the first artist to debut an album at No. 1 five times in a row on the Billboard 200 charts.
DMX was featured in films such as Belly, Romeo Must Die, Exit Wounds, Cradle 2 the Grave, and Last Hour. In 2006, he starred in the reality television series DMX: Soul of a Man, which was primarily aired on the BET cable television network. In 2003, he published a book of his memoirs entitled, E.A.R.L.: The Autobiography of DMX.
Everything about DMX was very intense. He had a muscular tattooed physique which was a perfect match for the type of music he made. Around the time DMX started getting into music, he served some time in prison for stealing a dog. He then began writing his own lyrics and performing at local recreation centers for younger children. He was also arrested for a carjacking in 1988 which landed him in prison again. While serving his time, he spent most of the free time writing lyrics and starting producing and selling mixtapes when he was released. DMX was a Christian growing up. He stated that he read the Bible nearly every day and also right before he died, he hosted an online Bible study with his fans.
On April 9, 2021, DMX lost functionality in multiple essential organs, reportedly his liver, kidneys and lungs and was pronounced dead shortly after. He was 50 years old.
About the Writer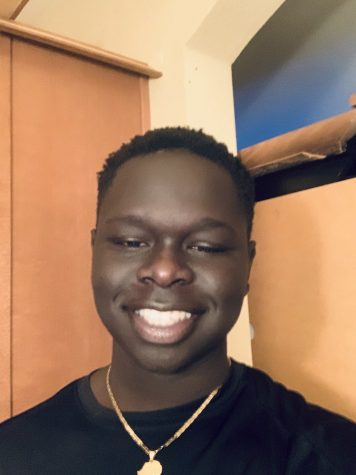 Gray Boul, Staff Writer
My name is Gray Boul. I'm a senior at Herbert Hoover High School and I was born and raised here in San Diego. I'm 18 years old and I was born on January...