Big shoes to fill
The new Cardinal staff reflects on the impact that former principal, Mr. Jason Babineau, had on the students, staff, and the whole Hoover community.
Mr. Babineau was an easy-going high spirited principal, he wouldn't get upset too easily even if students were not doing what they were supposed to. Mr. Babineau always showed his love for the school and his school spirit. He would also show up to sports games and cheered for us and was proud of our players even if they had lost. I'll always miss his loving and caring personality and highly doubt any new principal will live up to Mr. Babineau's reputation.
~ Alejandra Ramirez
Mr. Babineau was undeniably one of the most best principals the school has ever had. Many students feel saddened about his presence not existing on campus anymore, but feel pleased about the fact that he treated us with respect, especially since many people at this school aren't treated kindly like that. He treated and loved the students so much, as if they were his own.
~ Ashley Lopez
Mr. Babineau was one of the best principals Hoover ever had. The reason I said that is because he was one of the people that knew what others were going through, including me. What I am going to miss about Mr. Babineau is how he would do the Cardinal Pride raffle cards. He used to do a lot of them every day. How his absence will affect everyone in Hoover is that with him gone, a lot of things are surely going to escalate more without his presence. Mr.Babineau, if you're reading this, everyone still misses you and we still love you for being the best principal at Hoover.
~ Elvis To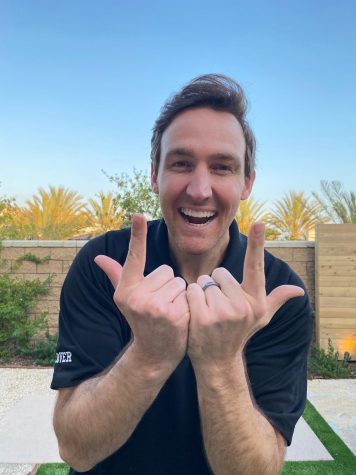 We don't realize how impactful a person can be/was to someone until they are gone. Mr.Babineau was and will be one of the best principals, if not the best, depending on what your connection/relationship was with him. But we truly did and will always appreciate him because he was more than amazing. He truly loved his job and he showed it everyday. You never saw him not trying to help/ cheer the campus up. There was never a day where he was in a bad mood. He was always trying to help.
~ Brandon Antunez
I do believe Mr. Babineau was the best principle we have ever had. The reason why I believe that is because in a way, he was like a father figure to us.  He would never ever forget us, even if we went and disappeared for five years.  He would never forget a face. He truly cared about us and always worried about us, and how we are. He would be at all the school games, cheering, and congratulating every player and saying how he's proud.  He always tells people he's proud of them, and it can be the smallest thing and he will always be happy for our smallest / biggest accomplishments and a lot of people are grateful of that because they might not even get that at home.
~ Clarisa Diaz
What I will miss most about Mr. Babineau is how chill and laid back he was.  He made everyone feel like they had a voice.  He would show up to the varsity football games and cheer on the team.  He would show Cardinal Pride and try to spread the word on Cardinal Pride.  Mr. Babineau will be missed at Hoover and will always be the brest principal ever.
~Gerardo Flores
Though I haven't been here at Hoover High School long, I can already tell that Mr. Babineau was a great principal. I transferred here last year during the second semester. He showed off a very bright, enthusiastic, and cheerful energy. He was very high-spirited. Mr. Babineau was like a father to us, a father figure to all of his students.  Mr. Babineau was very helpful and supportive. He brought up students that have fallen. A pat on the back, inspiring quotes, a lending hand. He would always cheer on and motivate students to keep going. Mr. Babineau is an example of the best principal every school would want.
~ Kathy Tran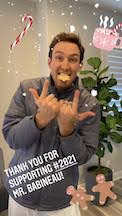 Mr. Babineau always brought joy to the school. He made us enjoy school better. Yelling "Hoo-Ryde" to the school, and making us better people. I never used to like my principals because they were always mean, and never understood the students.  Mr babineau checked up on the students, if that included grades, feelings and how to make the school a better place. The school feels empty without him.
~ Ikram Muhidin
I think he had a really good personality and very good energy. His energy will probably be the thing I miss about him.
~ Jesus Gastelum
Mr. Babineu has made an incredible impact amongst the students and teachers of Hoover High School. He constructed a welcoming space for everyone and many are unhappy with his disappearance. Throughout the years of principals for Hoover, he formed a community with love and respect. Mr Babineau was a man with great intentions and did amazing things in order to support students and the school.
~ Vivian Nguyen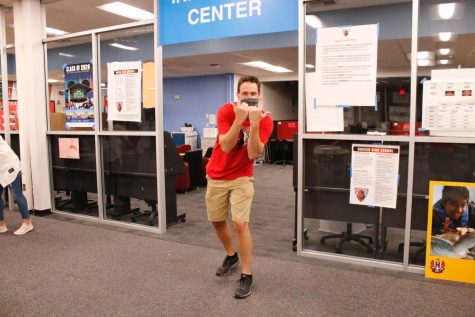 I think that principal Babineau was one of the best principals Hoover has ever had. But I'm only a sophomore so I won't know that for sure. But one of the reasons I think that is because he was always nice and listened to the students.  Another thing I liked about him was that he had so much school spirit. He was always so happy, and whenever somebody had a problem he would help solve it. I think that most of the students here will miss Mr.Babineau because everyone liked him for many different reasons.
~ Judith Sanchez
Mr.Babineau was such an amazing principal. I've only known him for a year but he's impacted me and so many others lives. He's kind, really supportive and has so much energy inside of him. No matter the situation, good or bad, he always lead with positivity. I was completely saddened to hear that Mr.Babineau was no longer our principal . I wanted him to stick around for our 2025 graduation. But he must have his reasons and I completely respect his choice. Mr.Babineau made me realize that caring for the little things, matters. He is everyone's spark of energy at homecoming, prom, football or any other sport games. He will always remind me that we should see the good in people.
~ Natalie Molina
What I miss about Mr. Babineau was how welcoming and spirited he was for his school. How much pride as a Cardinal of Hoover he had, and how he was always willing to talk to you, give you life advice or just talk to you about anything and make jokes. Mr. Babineau wasn't just an ordinary principal to just me and my sisters, and to pther students, they found him as a person to look up to, a person that encourages them to wake up out of bed and just to be in school for him. He made everyone matter.  Mr. Babineau is Mr. Babineau, and no other principal could replace him for what he did for us as a community and a Cardinal. I miss everything about him.
~ Gzim Bajrami
Something that I will miss about Mr. Babineau being our principle is all the positive energy he would spread out at 8:30 in the morning. I am going to miss the "lets get there on time ladies and gentleman!" Most of all, I'm going to miss the energy in the school when he used to be here. I feel like it's going to affect Hoover a lot because overall he was a nice understanding man. He was a teacher, a friend, a principle, but most importantly he was a human being that you could talk to if you ever needed anything at all. He would try his best to make anything happen. He was such a great principal who would put a smile on all his students in the school. Whether we had a good or bad day, he was always there to support and make time to be there for his students. He would try his best to come and support any Hoover game that was going on.
~ Osiris Aguilar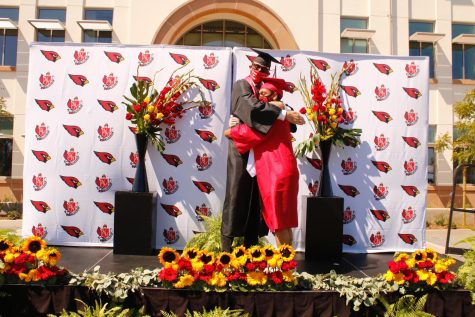 Mr. Babineau was a good principal due to the fact that he was very dedicated. He had lots of determination and focused on making the school a safer environment. Last school year I saw him constantly walking around campus checking in on everybody. He spent his time making us feel more comfortable by assuring our security. The amount of passion he displayed transmitted positive energy throughout the school. I heard from some of my teachers that he had a great relationship with them because of his overall positivity.
~ Simon Morales
Mr. Babineau was a good principal because he would always interact with students.  He would encourage students to do good in school and overall he was a role model to all of the students and if I'm being honest, not a lot of principals interact with students the same way that Mr. Babineau did.  The thing that I will miss most about Mr. Babineau are his words of encouragement and his fist-bumps.
~ Sophia Leyva
I believe that Mr. Babineau's absence will affect Hoover because he personally chooses to do better for the students, staff, and the environment. He encourages the students to do better like getting to class on time, getting their work done, and all of that sort of stuff. He always had a positive energy and a mindset which probably made him seem more comfortable and trustworthy to the students to be able to tell him about things that affect their lives.
~ Jana Nguyen