You are stronger with an education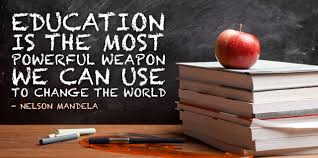 Education is a very important topic that has always been and will continue to be important. Education is very helpful to many people. Some don't realize how helpful it is to them.
I believe education has impacted my life. It has taught me a lot that is truly helpful. The information I have gained will follow me after I graduate and move on with my life. There have been many teachers throughout all my years of education that have taught me a lot of, not only school subjects, but also life lessons. There are many teachers along all schools around the world that truly love teaching and helping their students. They don't realize how impactful and important they have been to students.
Education is vital to me because not only has it taught me about subjects but it has taught me the way of life. It has taught me how to be a hard worker. I have become a more intelligent person and I know way more. Education has allowed me to know more than one language. I now know how to speak English fluently and I'm more well-spoken in a second language. I´m now able to interact in another language and it has benefited my future. Without education I don´t know if I would be able to succeed in life.
The importance of education is truly valuable. It has helped many achieve their dream. Without education people would not be educated and would be ineligible for their either dream job or career. As an immigrant I value education and I will always be thankful for having an opportunity to succeed in this new country.