Who doesn't love to gossip?
When it comes to binge watching shows, you're supposed to enjoy it more than once. I like to watch things that have drama in it. One of my favorite shows is Gossip Girl because each episode has something new in it.
Gossip Girl is about wealthy students that go to the fictional private school, Constance Billard-St.Judes, in New York City, and gossip spreads really fast through a website. The site exposes secrets of the students, their friends, and their families. It is not uncommon to see a random person take a photo and send it to Gossip Girl.  As the series progresses, it follows the characters to college, and life during and after.
The series used to be on Netflix for years before it was taken off. Then the series started streaming on HBOMax, and they also put it on their app. The main character is Serena Vanderwoodson, played by Blake Lively. She came back to New York and that's where the series starts and all the drama begins. I think I like it because it makes me escape from reality and get into their lifestyle. They live on the upper east side of Manhatten where all the affluent people are. It's like competition between rich families. However, a new student arrives at Constance Billard, Dan Humphrey, played by Penn Badgley, who comes from a working class family from Brooklyn. I think people enjoy the drama the show provides. They have won 18 Teen Choice Awards, and Ed Westwick won the Young Hollywood Award for breakthrough performance.
There are a total of six seasons with incredible drama and storylines.  It's a really popular show because each character represents a different personality and they represent different styles in fashion. I personally like Blair Waldorf, played by Leighton Meester, as a character because she is outspoken, sticks up for herself and her friends. Also she always wants to be the best and is the best. She has a off-on-off-just friends relationship with Westwick's character Chuck Bass, which adds to the ongoing drama.  She even becomes a princess only to be held captive in a loveless marriage.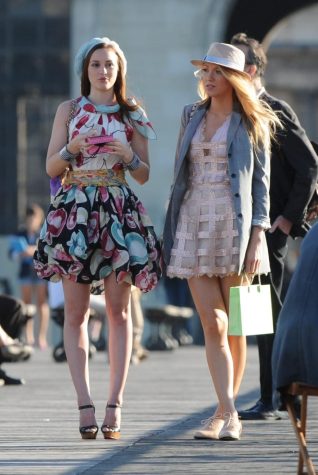 There are more main characters like Nate Archibald, played by Chace Crawford and Dorata, played by Zuzanna Szadkowski, who is Blair's faithful housekeeper/surrogate mother/friend. Who is behind the whole Gossip Girl site that exposes people and spreads secrets that turns  friends into enemies?  You'll have to watch and find out.  Xoxo Gossip Girl