You can flap or flip
My favorite place to eat has been the restaurant, Flap Your Jacks, located at 3020 University Ave, San Diego, CA 92104. The restaurant is owned by Ilan & Marcos Warnovitzki. They are open Monday through Friday from 7:30 AM- 2:30 PM, and on the weekends, they are open from 7:00 AM- 3:00 PM.
When I visit Flaps, I like getting some of their famous "Flip Your Own" pancake mix variety and make my own pancakes along with a refreshing acai bowl and lemonade. Or if I am in the mood for something sweeter, I get their delicious French toast.  The food here not only tastes good, but it looks aesthetically pleasing for those who enjoy taking pictures of their food, like myself. I not only like this restaurant for its tasty food, but I also enjoy the environment. It is usually filled with families laughing and bonding with each other and making cute and funny designs with their customizable pancake mix.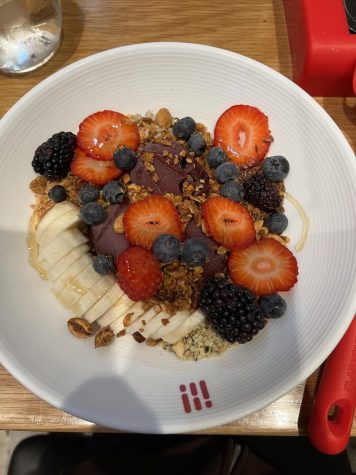 Flap Your Jacks is a great place to go out with friends as well as to make memories and share laughs together. Their restaurant has an eye-catching appeal, and although there are many shops and restaurants in the area, Flap Your Jacks always caught my attention. The way it is decorated directly represents what the restaurant is. By this I mean, it is decorated as a stack of pancakes and inside cute spatulas fill the ceilings. You never have to worry about bad customer service here. The employees are always polite and try their best to serve your food quickly. Your waiter will consistently check in on you just in case you need anything and if you do they make sure it gets to you as soon as possible. Our waiter said "Yeah I like working here and never had an issue because folks here are usually respectful."
Definitely worth checking out, and if you don't believe me, check out their Yelp Reviews.