Della Wells
In honor of Black History Month, every school day The Cardinal will feature a prominent and historical Black American, living or dead, who has worked toward change, advancement, and/or world peace. Some of them are heroes, and some are unsung heroes, who deserve recognition, and have made a contribution to society.
Della Wells is an African-American self-taught Artist born in Milwaukee, Wisconsin, in 1951. Della Wells has created more than 2,000 drawings based on her mother's childhood back in the 1920s to the 1940s. When Wells was younger, she used her art as a distraction from her mother's illness and her father's constant rage. Wells feels strongly that,
"…being a master of your spiritual self does not come until you understand from where you came from."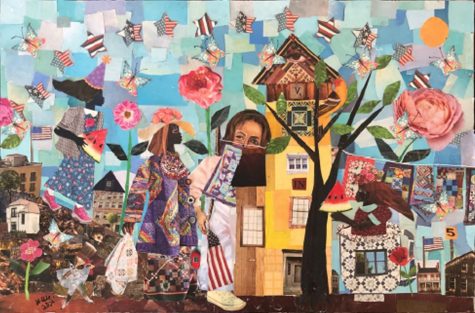 She incorporates her own mythology in her work which often has subtle symbols from the civil rights struggle. Wells states that her art and collages she has made throughout her life are about Black women who are powerful,
"I created this magical land called Mambo Land, where Black women rule…"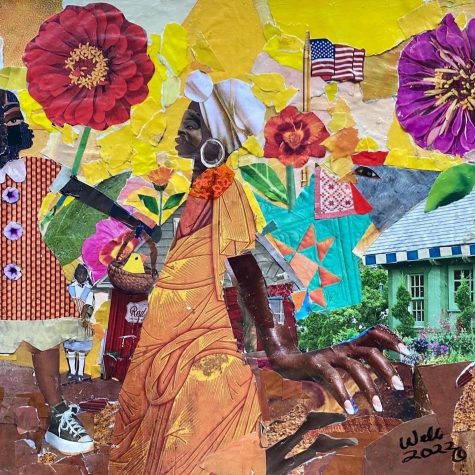 Although there has not been a big movement towards Della Wells, she inspires the younger and older generation of Black artists. What we can gain from Wells and her artwork, is that she represents self-worth and self-empowerment amongst a big group of people, especially women.  Wells' legacy is to show people putting your mind into what you create is true art and it should be expressed.
Della Wells was one of the two recipients of the City of Milwaukee's Artist of the Year Award for 2016. Her work has appeared in various publications including Self Taught, Outsider and Folk Art Guide to American Artists, Locations and Resources by Betty-Carol Sellen and Cynthia J. Johnanson and the book, Permission To Paint Please: A 150 Year History of African American Artists in Wisconsin written by Evelyn Patricia Terry.
Her work has been exhibited in Europe and throughout the U.S. Portrait Society Gallery presents her work annually at the Outsider Art Fair in New York City and in 2021 introduced her work at Untitled (Art Basel) Miami. She has illustrated two children's books.
Last year, the Hoover drama department produced the play, Don't Tell Me I Can't Fly, by Y. York which was based on the life of Della Wells.