You don't have to go far for fun
School's almost out and it's summertime!
If you are bored at home, grab some friends or family and head to Belmont Park located at 3146 Mission Blvd, San Diego, CA 92109. The park hours may vary, but they often change weekly so make sure to check their website to make sure when you plan your day there. The park usually opens as early as 10:00 AM and closes as late as 10:00 PM. Belmont Park is an amusement park that has been open for a century now and has been a place where people can go to make memories and have fun adventures with their loved ones.
Tickets prices can be costly depending on how many rides you want to get on but there is more to the park than fun rides and attractions.  There are also lots of places where you can get delicious food and fun games to play, and since it is an oceanfront park located in the Mission Beach area here in San Diego, you can go to the beach and splash in the waves or lay on the warm sand. I often come to Belmont, usually with my friends, and every time I go, the first ride I run to is my all-time favorite called "The Beach Blaster."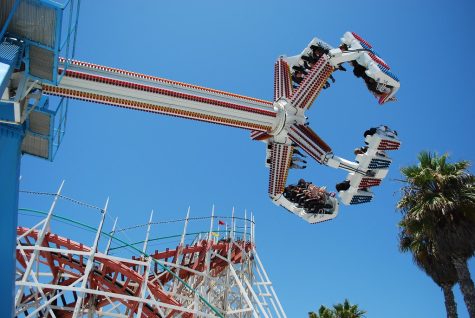 This ride is an adrenaline rush. This ride swings and as it goes on you go higher and higher while you are spinning. At its peak, you go up to 67 feet in the air and the views are both beautiful and terrifying. My second favorite ride is their iconic roller coaster "The Giant Dipper" In all its years it has gotten very bumpy, but it is still fun to go on with friends as you grab onto each other for dear life. The last ride I will mention is more of a kid's ride called "Tilt-A-Whirl" but I love this one because of the memories I have made on it with friends just going on it with friends to scream at the top of our lungs as we squish each other while it spins harder and harder. The looks you get just make the ride that much more fun.