My favorite food/snack is an Açaí bowl from Señor Mango's. Señor Mango's has two different locations both being based in the North Park area: 4607 30th St and 3042 North Park Way.
An Acai (A-sa-ee) Bowl is a fruit bowl consisting of Acai ice cream, along with fruits like bananas, strawberries and blueberries it is also topped with granola. An average Acai bowl costs around $8-$10. To some it might seem very pricey but I think the taste makes up for it and makes it all worth it. I usually make my mom drive me on a hot day or even on a cold day. It's usually a craving for me and when I crave it I usually need it. It feels very healthy and always fills me up.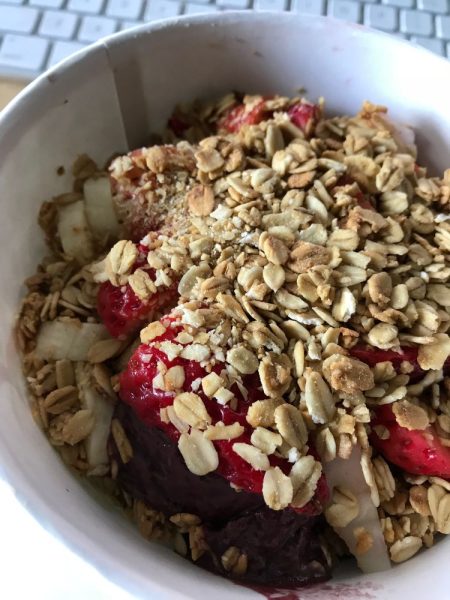 I have tried many Acai bowls but Señor Mangos have so far been my favorite. The Acai ice cream has a good flavor that not others have. The fruit is always super fresh and tasty. Señor Mango is usually busy in the morning because of its huge menu, which ranges from smoothies to sandwiches. This makes their store super popular. It easily reaches a bigger audience. The best time I would say to go would be 4-5 pm because it is not too busy and your order will come out quickly.
They are open from 6:30-8:30 pm, giving a lot of time to come in. Señor Mango's has its own website with updates and their menu. Ultimately Acai bowls are one of my favorite snacks and Señor Mango is the best place to get them at. They may not be an everyday snack (because of the price) but for every once in a while I find it to be quite worth it.