The Birds
Hang on for a minute...we're trying to find some more stories you might like.
Bird scooters are electric scooters that are charged by the mile. Many students at Hoover High School use bird scooters as their form of transportation to and from school. They are convenient to students because it is a way to get to school on time. However, students don't use them responsibly.
In the mornings, you will see a pile of scooters in front of our campus because students just drop them and head into school. Hoover security constantly picks them up, because a "flock of Birds" doesn't make our school look good and it may be a hazard to pedestrians. Also, if used irresponsibly, they can be very dangerous.
According to CNET, which is an American media website that publishes reviews, news, articles, blogs, podcasts and videos on technology and consumer electronics globally, in an article for CBS reported on November 29, "Because rentable electric scooters are so new, federal and local officials haven't started tracking accidents, and the companies have declined to release any stats. But some numbers are beginning to appear."
Also cited, "A quick sweep of local news stories brought up at least 50 incidents in the last six months. The tales are often gruesome. Like in San Antonio when a tourist accidentally turned into oncoming traffic and was hit head-on by a pickup truck. Or when an Oklahoma City man, traveling at full speed, clipped a metal drainpipe and was thrown over the handlebars — breaking both arms. Or when a rider in Cincinnati ran a red light and crashed into two pedestrians, sending them both to urgent care."
CNET also reported that the injuries listed in these news reports range from broken ribs, collarbones, scapulas, ankles and femurs to collapsed lungs, ruptured spleens, multiple stitches, black eyes and head fractures.
According to the State of California Department of Motor Vehicles, there are new laws that pertain to motorized scooters:
The Vehicle Code (VC) does not require registration, license plates to be displayed or the scooter to be insured. Local authorities can regulate the registration for these scooters pursuant to VC §21225.
Even though insurance is not required, owners of these scooters should contact their insurance company to determine if coverage is available.
An operator of a motorized scooter must be at least 16 years old, possess a valid drivers license or instruction permit, and wear a helmet.
A motorized scooter may be operated on a bicycle path, trail or bikeway, but not on a sidewalk. On the roadway, it must be operated in the bicycle lane, if there is one. On roads without bicycle lanes, motorized scooters may operate where the speed limit is 25 mph or less, and shall be ridden as close to the right hand curb as possible, except to pass or turn left. VC § 21226 (D) prohibits alteration of motorized scooters.
When students use Bird scooters, they tend to cut off cars or just zoom past them with no hesitation. They do not follow the above laws. Students can get ran over or hurt around campus and it's possible that the parents will try to blame the school for it although it is not responsible. Our students have to use these scooters responsibly but there are a number of students who may cause an accident by using the scooter irresponsibly.
There are many videos on social media of people breaking the Bird scooters, tossing them around, and even throwing them off bridges. On Instagram, @Birdgraveyard posts pictures and videos of the above activities.

About the Writer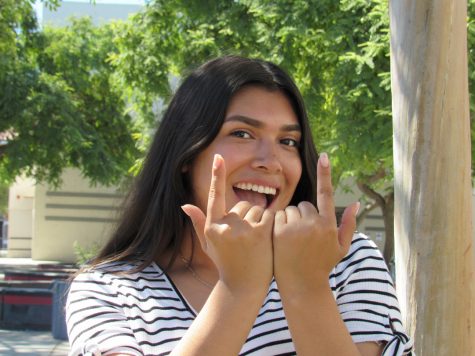 Magy Perez, Staff Writer
Magali Perez is a junior at Hoover High School. She is class of 2020, and plays for Hoover's Varsity softball team. She was born on August 6 in San Diego....