Harriet Tubman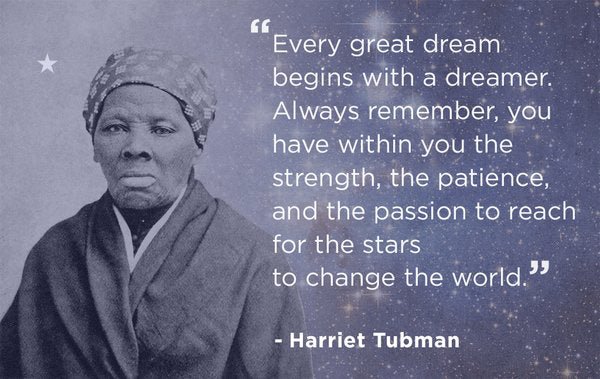 Hang on for a minute...we're trying to find some more stories you might like.
Harriet Tubman was an African American woman, abolitionist and political activist, who was born on January 29, 1822, into slavery.  She started the underground railroad to rescue her family, friends and other slaves.
Growing up, Harriet was beaten and whipped by her owner. She suffered traumatic head wounds when an irate slave owner threw a heavy metal weight intending to hit another slave but hit her instead. The injury caused dizziness, pain, and hypersomnia which occurred throughout her life. She was a devout Christian and experienced strange visions and vivid dreams, which she said were from God. In 1849, Harriet escape to Philadelphia and through a network of abolitionists and other activists, returned to Maryland to rescue her family.  She brought relatives with her out of the state, and eventually guided dozens of other slaves to freedom. She was called "Moses" and traveled by night and in extreme secrecy, and never lost a passenger. After the passing of the Fugitive Slave Act of 1850, she helped guide even more people north and helped them find work.
When the Civil War began, Harriet worked for the Union Army, first as a cook and nurse, and then as an armed scout and spy. The first woman to lead an armed expedition in the war, she guided the raid at Combahee Ferry, which liberated more than 700 slaves.  After the war, she retired to take care of her aging parents. She was active in the women's suffrage movement up until illness took over and was in an elderly home for African Americans until she died on March 10 1913. Harriet Tubman was a hero of freedom and courage.
About the Writer
Apiew Abella, Staff Writer
Apiew Abella is a senior at Hoover High School. She was born in Gambella, Ethiopia where violence has escalated to the point where it caused people like...