Michelle Ruby aka Mrbbaby
In honor of Hispanic Heritage Month
Michelle Ruby aka Mrbbaby, is a local artist who was born and raised in San Diego, California. She uses elements of her heritage as inspiration for her striking and lively art work. MrBbaby is heavily influenced by her community, as well as her Puerto Rican/Mexican upbringing. By combining vibrant colors with traditional imagery, MrBbaby is able to uplift her audience and intrigue her viewers. The artist's aim is to bring happiness and joy to her collectors and community, while also having stronger messages intertwined, all of which are open to the viewer's interpretation.
Michelle was raised in a predominantly Spanish speaking home with a single mother and her older sister. Her mother's strong work ethic led her to move to San Francisco and pursue her dream as an artist. After attaining her Bachelors Degree in Fine Arts, she returned to her home town to focus on a career. She had a daughter of her own and was determined to lead by example, so she began teaching art full time.
Although Michelle enjoyed teaching, she longed to create. She eventually moved to Los Angeles to try her go at being a full-time artist. Regardless of the many obstacles and struggles along the way, Mrbbaby was persistent and determined in all she did. She is now residing part time in Los Angeles and part time in San Diego trying to succeed in the art world and provide a strong role model for her daughter. She has now shown in galleries, such as Chimmaya Gallery, Just another Gallery, Chicano Park Gallery, and more. Her most recent work features one of her signature subjects, Chucho on side of the El Rincon restaurant in San Ysidro.
About the Writer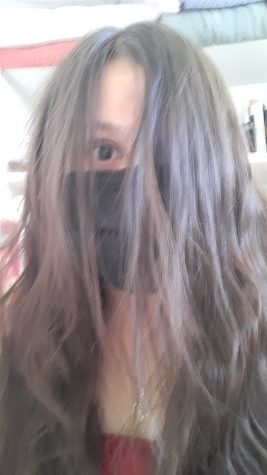 Paloma Ocampo, Senior Editor
Paloma Ocampo is a senior at Hoover High School and in the Academy of Health and Healthy Communities. She was born on November 7, in San Diego California,...