Gloria Steinem
March is Women's History Month! The Cardinal will honor, observe and celebrate the vital role of women in American history.
Gloria Steinem was born on March 25, 1934, and is an American feminist journalist and social political activist who became nationally recognized as a leader and a spokeswoman for the American feminist movement in the late 1960s and early 1970s.
Steinem was a columnist for New York magazine, and a co-founder of Ms. magazine.  In 1969, Steinem published an article, "After Black Power, Women's Liberation"  which brought her to national fame as a feminist leader.  In 1971, she co-founded the National Women's Political Caucus which provides training and support for women who seek elected and appointed offices in government. Also in 1971, she co-founded the Women's Action Alliance which, until 1997, provided support to a network of feminist activists and worked to advance feminist causes and legislation. In the 1990s, Steinem helped establish Take Our Daughters to Work Day, an occasion for young girls to learn about future career opportunities.  In 2005, Steinem, Jane Fonda, and Robin Morgan co-founded the Women's Media Center, an organization that "works to make women visible and powerful in the media"
Steinem's writing cause some controversies during her career. In 1963, while working on an article for Huntington Hartford's Show magazine, Steinem was employed as a Playboy Bunny at the New York Playboy Club.  The article, published in 1963 as "A Bunny's Tale", featured a photo of Steinem in Bunny uniform and detailed how women were treated at those clubs.  Steinem has maintained that she is proud of the work she did publicizing the exploitative working conditions of the bunnies and especially the sexual demands made of them, which skirted the edge of the law.  For a brief period after the article was published, Steinem was unable to land other assignments; in her words, this was "because I had now become a Bunny—and it didn't matter why."
On June 15, 2020, Steinem co-wrote a letter with Mona Sinha to the editor of The New York Times, in which they opposed the elimination of civil rights protections for transgender healthcare by the Trump administration. In it, they made note of precolonial American traditions of gender variance and claimed that "the health of any of us affects the health of all of us, and excluding trans people endangers us all."
About the Writer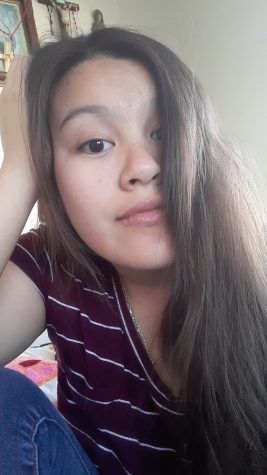 Paloma Ocampo, Editor-in-Chief
Paloma Ocampo is a senior at Hoover High School and in the Academy of Health and Healthy Communities. She was born on November 7, in San Diego California,...