Rebels with a cause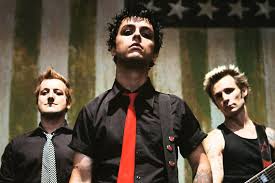 Green Day is an interesting case in the sense of why they wrote and produced most of their songs. It was during a time when politics were strong, and they incorporated their point of view into their songs without making it obvious.  You can even tell by the song's name, and it was during a time that rock was popular.  It was also a sign of rebellion.
The older generation was not impressed by this new sound, though it was the conversation during that era since it was something new, and people are always going to fear something new. How did this band come to be? In the East Bay of Northern California, Green Day was formed in 1987 by Billie Joe Armstrong and Mike Drint. During the beginning of the band's career, their first album was 39/Smooth and the second was Kerplunk. A fun fact is that they were originally called Sweet Children in 1988, but changed it to Green Day as that was a slang term in the bay area . They would then find success with their third album, Dookie, and their fourth album, Insomnia. They were a commercial success now as a punk band which helped them sell their brand. Their next two albums, Nimrod and Warning, did not garner the same success as their previous albums.
In 2000, they participated in the Warped Tour to promote Nimrod. And though Warning didn't get a lot of attention, it did produce the hit "Minority" but people were noticing that the band was losing its steam. In 2004, the band released American Idiot, and the first single, "American Idiot," which got the band back on its feet and the album went to number one on the Billboard Music chart.
Their best selling song though was "Boulevard Of Broken Dreams" which is a song I enjoy. It won the 2006 Grammy Award for Song of the Year. I do like their older songs because I do like a bit of rock.