It's not me, it's You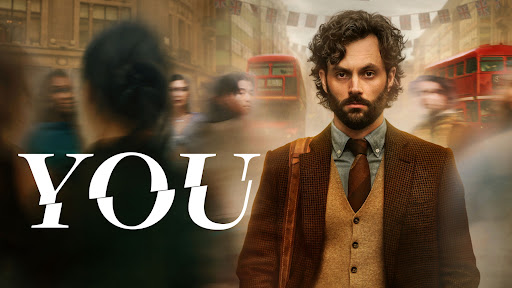 You is a psychological thriller series first produced on Netflix on September 9, 2018.
The series came to life based on the novel You by Caroline Kepnes. The entire show represents the life and past of Joe Goldberg, a charming and clever bookstore manager in New York City. The show is packed with themes of love, obsession, and morality, keeping viewers guessing what deadly twist will happen next.
In season one, Joe's eyes are on a customer named Guinevere Beck, who believes a conversation with him is pure while he manipulates her desires. Joe begins to stalk her using social media, lurking around to gather any information to piece together her complete life. He becomes increasingly desperate to observe and control her day-to-day, which brings deadly and unthinkable events when one thing doesn't work out.
Joe does anything and everything to protect who he "loves" by inserting himself into the lives of others. He becomes obsessed with the women around him due to his childhood experiences and desire for a perfect relationship. Along the way, Joe gets involved in other relationships, including with his neighbor, Love Quinn. The relationship between Joe and Love leads to major unexpected plot twists. Love's secret yet traumatic past and her family's involvement add layers to the story, explaining her personality towards Joe, her brother, and anyone she feels to protect. Joe uncovers Love, causing him to go through a transition where he is initially obsessed. Then, as the relationship moves, spills are made to clean up.
I fell in love with this show on my very first watch. What I love most about the show is that it's unproductive, so re-watching keeps me on the edge of my seat every time, yet, it's a roller coaster of passionate emotions. My favorite character has to be Love Quin. Although she has deep flaws, at times impulsive and controlling, she is also a relatable and sympathetic character. She does the beyond because she only cares and is compassionate about who she loves, her family and friends. Love is an inspirational independent woman who is not afraid to speak her mind or do. She is confident when standing up for herself and her sentiments. These elements about Love herself and the love felt tie me into this show.