Oprah for 2020
Hang on for a minute...we're trying to find some more stories you might like.
Its seems as if 2020's election is going to be the year everyone, even us teenagers,  will be looking forward to. Why is that? Well because we hear that Kanye West and Dwayne Johnson are public favorites to be run for president for 2020, but now there are reports of Oprah Winfrey throwing her hat in the White House race. Besides them, our current president claims he too will try to run for president once again.
In most recent Golden Globes Oprah received the Cecil B. DeMille Award where she gave a touching speech. Within the span of a few minutes, people began formulating the idea that Oprah might want to run for presidency. After this arose many articles were published on Oprah's speech.
News pages like CNN were talking and are heard from Oprah's friends about her plans. Some say she wants to run for president, others claim she doesn't. Many don't want her to run because she doesn't have any political experience. That is completely far, she's going to be placed in a position where she has no experience.
"She loves this country and would like to be of service in someway, but I don't think that she's actively considering it," said Winfrey's friend, Gayle King. "She loves this country and would like to be of service in someway, but I don't think that she's actively considering it.
'Oprah would like to be of service in someway' meaning she sees herself holding some type of office. However if she does she's gonna have a hard competition like mentioned, Kanye and Trump. Even if she is or isn't considering on running for 2020, people will still nominate her just because of the positive effect that she has had in our society.

About the Writer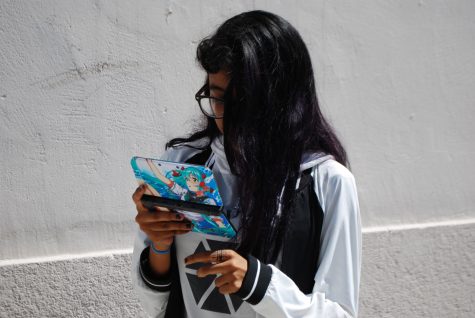 Violeta Arreola, Staff Writer
Violeta Arreola Molinero, a junior at hoover high, tends to get her hair dyed to different shades of purple or lets all the color go away. She loves to draw and thanks to that she has a bad habit of drawing on most papers she gets her hands on. Besides that she also like to paint. She may say she's not that good at math, but she's a great partner to have in group projects if  an artistic person is needed. Besides drawing and painting she's very into photography, she likes to be the one taking the pictures. She has 2 little sisters, and two cousins who attend Hoover, one in 11th another in 10th. She's in Cardinals Interact and is thankful for all the opportunities they have given her to earn a lot of community service hours. Violet has over 70 hours of community service. She prefers for people to call her Violet because it's easier for people to say. She may seem shy but can be very social once you befriend her. Some of her favorite stores are Muji and Daiso. There you can buy very aesthetic school supplies for good prices.