Bessie Smith
In honor of Black History Month, every day The Cardinal will feature a prominent and historical Black American, living or dead, who has worked toward change, advancement, and/or world peace. Some of them are heroes, and some are unsung heroes, who deserve recognition, and have made a contribution to society.
Bessie Smith  was born on April 15, 1894, and was an American blues singer widely renowned during the Jazz Age. Nicknamed the "Empress of the Blues", she was the most popular female blues singer of the 1920s and 1930s. She is often regarded as one of the greatest singers of her era and was a major influence on fellow blues singers, as well as jazz vocalists
She was the daughter of Laura and William Urie, a laborer and part-time Baptist preacher in Moulton, Lawrence County, Alabama. He died while his daughter was too young to remember him. By the time Bessie was nine, her mother and a brother had also died. Her older sister Viola took charge of caring for her siblings. Consequently, Bessie was unable to gain an education because her parents had died and her elder sister was taking care of her.
Due to her parents' death and her poverty, Bessie experienced a "wretched childhood." To earn money for their impoverished household, Bessie and her brother Andrew busked on the streets of Chattanooga. She sang and danced as he played the guitar. They often performed on "street corners for pennies," and their habitual location was in front of the White Elephant Saloon at Thirteenth and Elm streets, in the heart of the city's African-American community.
Smith began her recording career in 1923. Bessie Smith was signed to Columbia Records in 1923 by Frank Walker, a talent agent who had seen her perform years earlier. Her first session for Columbia was on February 15, 1923; it was engineered by Dan Hornsby. For most of 1923, her records were issued on Columbia's regular A-series. When the company established a "race records" series, Smith's "Cemetery Blues"  release on September 26, 1923, was the first issued. Both sides of her first record, "Downhearted Blues" backed with "Gulf Coast Blues", were hits. She made 160 recordings for Columbia, often accompanied by the finest musicians of the day, notably Louis Armstrong, Coleman Hawkins, and Charlie Green. A number of Smith's recordings—such as "Alexander's Ragtime Band" with the Dorsey Brothers orchestra in 1927—quickly became among the best-selling records of their respective release years.
On September 26, 1937, Smith was critically injured in a car crash on U.S. Route 61 between Memphis, Tennessee, and Clarksdale, Mississippi  Time passed with no sign of the ambulance, so Hugh Smith suggested that they take her into Clarksdale in his car. He and Broughton had almost finished clearing the back seat when they heard the sound of a car approaching at high speed. Smith flashed his lights in warning, but the oncoming car failed to slow and plowed into his car at full speed.  Bessie Smith was taken to the G. T. Thomas Afro-American Hospital in Clarksdale, where her right arm was amputated. She died that morning without regaining consciousness. After her death, an often repeated, but now discredited story emerged that she died because a whites-only hospital in Clarksdale refused to admit her.
Smith's funeral was held in Philadelphia a little over a week later, on October 4, 1937. As word of her death spread through Philadelphia's black community, her body had to be moved to the O. V. Catto Elks Lodge to accommodate the estimated 10,000 mourners who filed past her coffin on Sunday, October 3.  Smith's grave remained unmarked until a tombstone was erected on August 7, 1970, paid for by the singer Janis Joplin.
Three recordings by Smith were inducted into the Grammy Hall of Fame, an award established in 1973 to honor recordings that are at least 25 years old and that have "qualitative or historical significance." In 1984, Smith was inducted into the National Women's Hall of Fame.  The U.S. Postal Service issued a 29-cent commemorative postage stamp honoring Smith in 1994.
In 2002, Smith's recording of "Downhearted Blues" was included in the National Recording Registry by the National Recording Preservation Board of the Library of Congress. The board annually selects recordings that are "culturally, historically, or aesthetically significant."
About the Writer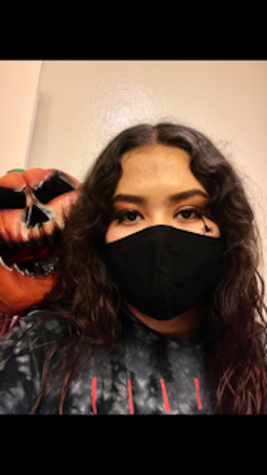 Martha Nunez, Senior Editor
Martha Nuñez is a senior at Herbert Hoover High School. She was born in San Diego on August 16. She's taking publications because she's interested...