The Cardinal celebrates Teacher Appreciation Week
Who was your most influential teacher either past or present?
Daisy Castaneda, Eric Sanchez, Elvis To, Long Phuong, Kayla Onn, Kathy Tran, Samirah Jackson, Jana Nguyen, Jeorge Morales, Amina Naleye, and Kay Tieu
May 3, 2022
It's Teacher Appreciation Week and you know what that means, a week where we appreciate teachers! Teachers are not praised enough. Imagine having to teach kids every day and seeing them for so long. Being a teacher has so many responsibilities. It is an important career because they have to educate their students but it can be draining and exhausting at times. Teachers are so amazing that they get a week to take in all of our appreciation.
Ms. Julie Millen
Amina Naleye
Teachers are undoubtedly the most vital yet underappreciated people of our society. They provide children a sense of purpose, prepare them for success as global citizens, and instill in them a desire to go out into the world and thrive in life. Today's children will be tomorrow's leaders, and teachers are the important people in the moment at which a kid is prepared for their future. The teacher that I feel did that for me would have to be Ms. Millen.
Ms. Millen was my beloved freshman English teacher. While the school year was on Zoom and things were chaotic, she was my rock through it all. Honestly, during online school I slept through the majority of my classes and did the bare minimum to get by but crazily enough, I found myself engaging in her class and looking forward to it. Her class was a breath of fresh air for me, it was a break from the monotony of all my other classes. No offense to any of my other freshman teachers (it was my low attention span and laziness, not your classes). It was hard to have a connection with the teachers behind a computer screen, but with Ms. Millen it all just happened so naturally. She had a way of pulling in all the students and making them feel at ease.
The stuff we learned in her class was so fascinating to me and always grabbed my attention, but looking back, it was definitely the way she taught it rather than what was being taught. Ms. Millen always had a way to make learning fun — whether it was her deadpan humor about the material that had me cheesing behind the computer screen, or the cute feedback she gave under our assignments. Turning in my assignments, I was always searching to impress her with my work and earn one of the dazzled private comments she reserved only for the best work.
Now as a sophomore, whenever I see her around campus I always make sure to wave at her and give her a smile. That being said, I did not turn my camera on even once throughout the entire school year so the confused yet welcomed waves I get back are understandable. It's so funny knowing all the admiration and awe I hold for her is unbeknownst to her the entire time. Or at least until she reads this article. If you're reading this, thank you for being you.
P.S. With the songs you played before class, you put me on so much good music. So thank you for that as well.
Ms. Cassandra Eyer
Jana Nguyen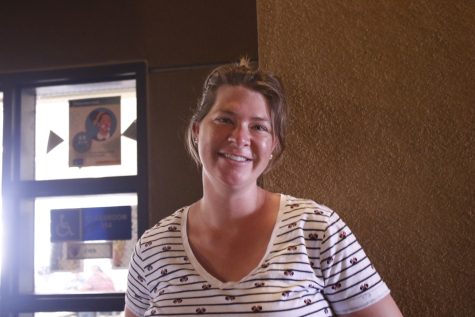 I believe that the most influential teacher for me was Ms. Cassandra Eyer. She was one of the teachers that I had commonly reached out to whenever I had a problem or situation that I was going through. She would always give me advice from both sides, even if I wasn't right. She would lightly encourage me to do the right thing without applying that much pressure onto me, even if I needed it.
The most important thing that I liked about her especially is the way she would respect every student. She would be there all the time to offer help to those students who are struggling with math and needed the extra help. As for me, I remember failing my math test with no time for studying for that test. Afterwards, she spared me some time and helped me relearn those math problems that I missed. I remember vividly knowing how to solve those kinds of problems with no help whatsoever. She had explained it to me every step of the way, slowly and cautiously. She was very patient with me and did not raise her voice at me when she was teaching me. In fact, she has not ever raised her voice at our class because I think most of the students liked her and appreciated the way she was teaching our class. She would teach and reteach until the majority understood what was being taught. I also liked the activities that she would make the class participate in because they would bring the entire class as a whole.
Ms. Kristiana Riego De Dios
Jeorge Morales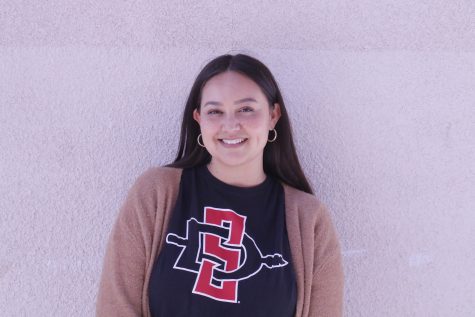 The most influential teacher at Hoover for me is Ms. Kristiana Riego.  She has always been there for the Hoover soccer team since my first year at Hoover and she has always had nothing but good intentions for the kids playing on the soccer team. Not only in the educational system but she has also been there for my team in a supportive emotional way she's been through it all with us through our ups and downs. She provides the whole boys and girls soccer program with tutoring in her classroom after school whenever she is available to tutor.  She has been doing that ever since I came to Hoover. Another reason why I believe she is one of the most influential teachers at Hoover is because she's always supporting the boys soccer team for the games since we aren´t provided with school buses to transport us to the away schools. She offers rides to whoever does not have their own ride to the away games. She attends our games and supports us through thick and thin. We even invite her to our San Diego trips because that is how much she means to us. If it wasn't for her, I don't think I would be eligible for high school sports when the soccer season comes around. During big events she takes time out of her day to help us with fundraisers and many other things to help us be successful in the field. For senior night she organizes everything for us and announces the seniors. I have never met another teacher that cares for a team as much as she does.
Mr. William Mercado
Long Phuong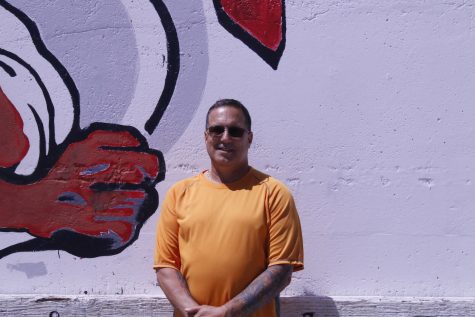 The teacher that influenced me the most is in Hoover High School is Mr. William Mercado. When I was in 9th grade, a new freshman who just came to high school, he was the one who gave the speech that convinced me to join JROTC (Junior Reserve Officers Training Corps). We called him First Sergeant Mercado. It was the first week at Hoover when we came into the Big Gym for a presentation that I was not really interested in. I picked a seat for myself. Then an old man with his white army uniform came in, he introduced himself, then he started his speech about JROTC. The speech was about what was in it, and there are many different teams and activities. This is what he said that changed my mind. "One day in class, one day in uniform, so only three days for PE." That sentence made me change to ROTC. I had some questions about my health. Can I still join ROTC? He replied "Yes." At that point I decided to join just thinking that I only got three days of PE in return of 1 day in uniform. Turns out I learned a lot from ROTC, not just less PE. I was a member of the Charlie team and my CO was Thuan Tran. He was very welcoming. I was encouraged to join the Academic League and that also pushed me to begin my story at Hoover. First Sergeant Mercado was very influential and still influential now.  If he didn't make that speech, I would've lost a chance to join ROTC.
Mrs. Mary Milliken
Kay Tieu
I've met many teachers that have had a big influence on my life. Among the most notable of them was my fourth and fifth grade teacher, Mrs. Miliken. Mrs. Milliken has helped me more than she probably realizes. She's helped me find my passions and developed my interests – like reading and writing. In elementary school, she actively encouraged her students to read more. She bought and collected books to create a classroom library that was open for students to check out and read. In addition, we would do book clubs and group readings and discussions about the book, during which, Mrs. Milliken often acted out the voices of the characters. I finished many books and notable series during the two years I spent with her (– like Harry Potter). Thanks in large part to her encouragement, I also started to enjoy writing. When I first began pulling from personal experiences and putting my real, unfiltered thoughts and feelings down on paper, I felt a sense of freedom and elation. However, I was a little worried about how everyone else would react to my words. When Mrs. Milliken told me that what I wrote was excellent and said that she wanted to share it with the class, a part of me felt validated and that contributed to the positive feelings I correlate with writing. I learned not to be afraid of what other people might think and started to express myself more – such as through creative and free-write pieces I began to write for fun. My love for reading and writing, which I think really started to manifest during my time in her class, has endured with me all these years.
Mrs. Milliken managed to create such a welcoming and encouraging environment. She was the reason I have so many fun and memorable experiences from that time – such as zoo trips, seeing a play at the Old Globe Theatre, and in-class plays and performances. I also learned to care about many things in this world because of her – like the environment, endangered animals, litter, and more. It's helped me really think and consider the impacts of human activity and made me a more caring person. In realizing the effect she's had on my life, I gained appreciation and admiration for teachers. I came to believe that the role of teachers can be important in a person's life because they can directly touch the lives of hundreds of students within their career and meaningfully influence their lives. They can help to ensure the next generation of humans are caring, thoughtful, and responsible. My feelings have led me to consider pursuing a career in teaching.
Mrs. Milliken has helped shape me into the person I am today and for that, I'll be forever grateful.
Mrs. Kaasi
Veronica Perez
Mrs. Kaasi was the teacher that helped me go through everything I had to when I was younger. I would show up to her class and it would be such an excitement. The first time I met her was in second grade. She was just a light to our room. She made math and every other subject so fun. I think meeting her has been one of the best moments in my life. Even after second grade I would go visit her in her classroom. Just to talk and have a good time. She was just the nicest person and was super tall. She made me enjoy going to school. My best memory with her would be when I would talk to her at lunch and we would just laugh and have a good time. There was this one time during lunch I told her about how for mothers day I was going to save up money to take my mom to Olive Garden. The next day she comes to school and tells me to wait after class. So I waited and she handed me a gift card from Olive Garden wth $45. She said she got it on her birthday and was just having it in her room. So she thought what better way to spend it then to give it to me. That was the first time I have ever experienced something so nice and especially from someone older than me. Most of the time my family had been struggling with money. I went home that day and never felt so loved by any of my teachers like I did that day. My mom was the happiest when she found out my plan and how Mrs.Kaasi helped us. If I could, I would give the biggest thanks to Mrs.Kassi. I can proudly say, she has been my top teacher and wish the best for her. She will always have a special part in my heart.
Mr. John  Ta
Eric Sanchez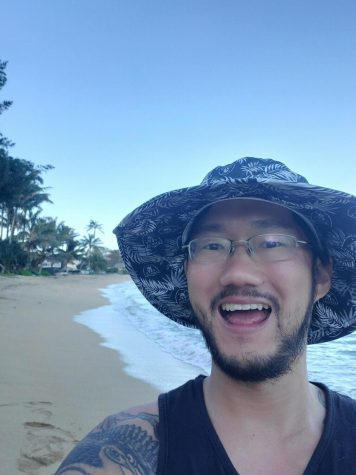 The teacher that had the most influence on me would be Mr. John Ta. Mr. Ta has been my English teacher since 10th grade. He has impacted the way we think and has pushed each one of us to reach our full potential. Not only has he taught us about English literature, but he has taught us social etiquette, how to treat others and to be friendly with your classmates. His lectures have impacted me by showing me how important it is to maintain and have values. He has challenged his AP students and supported the kids who were struggling. We all hate writing his essays because they are hard but it shows how much we struggle and highlights what we need help from. Mr.Ta has given important lessons on how the real world works. He taught us how to be independent and more self-sufficient. He has given us important books that will always have a place in our lives, for example The Kite Runner and Invisible Man, which made us all cry. Mr.Ta is someone I can go talk to because our school sometimes doesn't feel safe and his presence makes me feel confident and strong. I can act like myself around him and not someone trying to impress the teacher. He has made me start making my own expectations and become the man I want to be. I am thankful for Mr.Ta for making me a better person and will be forever grateful for his time and effort, and how to be better and responsible.
Ms. Elisa Halper
Kayla Onn
Next to Hoover, my old school Monroe Clark has so many good teachers but my favorite teacher was Ms. Elisa Halper. I had Ms. Halper in seventh and eighth grade for advanced math. Maybe I liked her because my favorite subject was math, but she was such an awesome teacher. She was super chill and nice. Even with the homework, it wasn't too much to where you are overworked but it wasn't too little because I was able to learn a lot in that class. I also liked that I was able to talk to my friends while doing my work and received good grades by the end of the year.
Though we never really talked outside of school I felt like she would always be there for me during my middle school years, even if it was just a listening voice. Growing up, I have always liked math the best since I was good at it, but being in her class made me love it even more. To this day my favorite subject is math. Even when I am having a hard time in math class, math is the only class that will get me through the day. Being in her class made me more dedicated to math, and of course other classes, but I am even thinking about a career that has math involved in it. I am not sure what that career is yet but at least I have an idea.
Mr. Ted Hernandez
Kathy Tran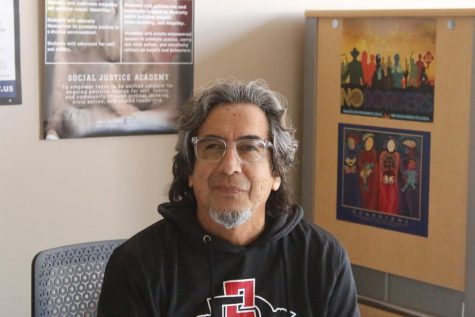 Though I haven't been here at Hoover High School for long, I would consider Mr. Ted Hernandez, my AP English Language teacher, to be the most influential. When I transferred over, I would say Mr. Hernandez helped me the most. I was able to get my own chromebook because of him, and I felt comfortable talking to him and asking for help. I also felt very comfortable asking questions when I usually do not. Mr. Hernandez has made me braver in a way which I am very grateful for. He would also provide me and my classmates with many opportunities, internships, and scholarships. He made sure that we did our work and did his best to prepare us for the upcoming AP exam. Because of Mr. Hernandez's way of teaching, I feel confident that I will do well on the English AP Exam.
Not only that, Mr. Hernandez's personality is also something that I appreciate. He is very chill, funny, and studious. On some days, he would bring us pizza and other food. We would also watch movies together to celebrate finishing a project, assignment, or a test. It is like a reward for working hard and this is what motivates me to always stay on task, get all my work on time or earlier, and to actually study for tests and quizzes. Mr. Hernandez has influenced me in a positive way. I would consider him to be one of the best teachers here at Hoover. I am very thankful to have Mr. Hernandez as my teacher this year and also for next year's AP English Literature.
Mr. David Landry
Samirah Jackson
My most influential teacher was my 8th grade history teacher Mr. David Landry at Monroe Clark Middle School. Mr. Landry was funny, smart, dorky, weird, cool, nerdy, and geeky, but he was very compassionate and had such a good way of connecting to his students. I remember finding myself seeking his approval. I always wanted to be complimented about my work from him, asked questions, shown as an example, ect. For me, I've always been the emotional type so I hated thinking I'd disappoint him or change his perspective of me, or that I was one of his annoying students (hopefully not). I remember this one time he asked me why I wanted good grades (as i was complaining about my grades) and I simply just gave him the "I want to go to college" and "my parents want me to get good grades". Of course he saw right past that and he continued to tell me something about me, grades, and what I want. I don't remember the exact words but I definitely remember the message. I continue to look back to that to this day and I ask myself why am I doing all of this? Why do I try so hard for good grades? The fact that half of my answer is still the same makes me wonder how much I've grown? It makes me wonder if half of my mind is still in 8th grade waiting to be picked by questions from Mr. Landry. It's the fact that half of my answer has changed that makes me realize I've grown in a way my 8th grade self could never imagine! I feel as if I owe some of that growth to Mr. Landry. You might be wondering what is this answer to his question (the new half at least)? Well in simple terms the answer is for comfort. I want to work hard in life, experience life at its worst, love life at its best, and make life not only comfortable for myself but for my family, for the homeless, for the refugees, for the orphans, for the mentally ill, and for the muslims. If Mr. Landry sees this, I wonder what he'll think of my answer. I hope this half of one is good enough, for now at least.
Mr. Michael Stanley
Elvis To
Back when I was a little boy in kindergarten, I had one of the best teachers ever. His name is Mr. Michael Stanley. He is a kindergarten teacher at Central Elementary School and he is chill to this day even though I haven't seen him since sixth grade. I remember when I was in third grade, I went on a camping trip with him and the rest of the teachers at Central. Sometimes, whenever I didn't feel like it, he would let me go into his classroom and draw whatever I want because he knew what I was going through. The thing about him is that he created a classroom that was safe for me when I was a little boy growing up back then. He even motivated me to be better than I was before because he knew that I can do better. I even remember some of the words he said to me when I was feeling down, "work hard, be kind, dream big, no excuses." That was the reason I became better and I remember those words frequently and apply them to the situations I go through today. Another thing about him is that he's also quite funny for his age. One day, I was going into his classroom and I saw him in a costume from a book he read to his class. Another thing about him is that he's really kind when it comes to helping out others overall. Lastly, I remembered something he said to me, and me only, "I can let you have the kindergarten class photo by the time you are in high school."  Maybe it's time I go and visit.
Ms. Yolanda Gooch
Daisy Castandeda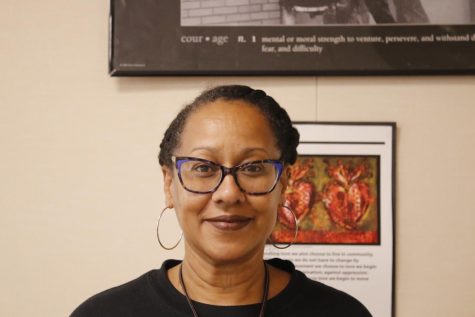 For me, my most influential teacher is Ms. Yolanda Gooch, who is a teacher here at Hoover High. In the two years I've had her for a teacher, she has taught me about social justice and more about life. Plus she's a fun person to be around. She's one of the reasons I've learned about our confusing systems we have. It's thanks to her I learned about all these topics. High School students will soon become adults and we'll have to deal with the problems that will be thrown at us. She taught us in a way for us to learn about these issues in a more fun way. Though it did get confusing, as a lot of these topics are very complex, she would always encourage us. I never felt like I was always learning the same thing as she would change it up in ways to show us more. She also showed us short videos that were very interesting, and created projects related to what we learned. We would also have discussions, and everyone would share their voice for whatever they had to say. Ms Gooch is, in my opinion, a good person to have discussions with as she was willing to listen to what we had to say. When it came to assignments, she spoke to those who had low grades and encouraged them, and gave options if they were struggling to get back on their feet. She really wanted us to try when it came to her class and that's something that's hard for some teachers to do with their students. She also never gave up on us, even when we were the worst class that day. I'm grateful for having her as my teacher, and I hope to see her again in the dream job she wants. I hope to see her happy for the future she decides when she leaves.